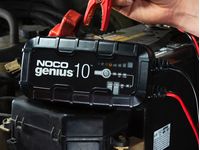 Genuine GM
19419855
Genius 10 Smart Battery Charger by NOCO
For Buick Enclave 2019-2020; Encore 2019-2021; Encore GX 2021; Envision 2019-2020; LaCrosse 2019; Regal 2019-2020; Cadillac Escalade 2019-2021; XT4 2021; Chevrolet Blazer 2019-2020; Camaro 2021; Colorado 2019-2020; Equinox 2019-2020; Express 2500 2019; Express 3500 2019; Express 4500 2020; Impala 2019-2020; Malibu 2019-2020; Silverado 1500 2019-2020; Silverado 2500 2020; Silverado 3500 2020; Silverado 4500 2019-2020; Silverado 5500 2019-2020; Silverado 6500 2019-2020; Sonic 2019-2020; Spark 2019-2021; Suburban 2021; Tahoe 2020-2021; Trailblazer 2021; Traverse 2019-2020; Trax 2019-2021; GMC Acadia 2019-2021; Canyon 2019-2021; Savana 2500 2019-2020; Savana 3500 2019-2020; Sierra 1500 2019-2020; Sierra 2500 2019-2020; Sierra 3500 2019-2020; Terrain 2019-2020; Yukon 2019-2020; Yukon XL 2019-2020
Features a safe and mistake-proof design with spark-proof technology and reverse polarity protection, which allow it to safely connect to any battery
Can be used as both a battery charger and battery maintainer - keeps the battery fully charged indefinitely without over-charging
Intuitive visual diagnostic tool for detecting reverse polarity, low-voltage or damaged batteries
Designed to charge gas engine batteries for cars, trucks, boats, lawnmower, snowblower, jet skis and more
Charges lead-acid and lithium-ion batteries up to 230-amp-hours
A 6V and 12V charger and maintainer
Dirt, water, UV, impact and crush-resistant
Kit includes Smart Charger, Mounting Bracket and Strap, Battery clamp connectors with integrated eyelets, User guide and information guide with warranty
Say goodbye to bulky trickle chargers — now you can safely charge select Chevrolet vehicles with a NOCO Genius Charger. Compact and rugged, these portable automatic battery chargers and maintainers are specially designed to energize 6V and 12V lead-acid and lithium-ion batteries. NOCO intelligent battery maintenance technology monitors battery activity and helps reduce risk of battery overcharging, which can decrease battery life. NOCO Genius Chargers feature patented safety technology that provides spark-proof connections and reverse polarity protection. With the push of a button, you'll have the ability to switch between various charging modes. It's as simple as connecting the charger to the vehicle's battery, selecting the mode and leaving the battery to charge. Once the vehicle's battery is fully charged, the indicator will glow green and the unit will stop charging. All that's left to do is detach the Genius Charger and go. ? PROPOSITION 65 WARNING: Battery posts, terminals and related accessories contain lead and lead compounds, chemicals known to the State of California to cause cancer, birth defects and other reproductive harm. Batteries also contain other chemicals known to the State of California to cause cancer. Wash hands after handling.
Product Specifications
Packaging Quantity

1

Height

5.25

Length

17.75

Width

10.12

Weight

0
Warranty
Genuine GM parts are backed by GM's factory warranty which are high-quality vehicle-specific with the right fit the first time.
Part Fitment for 19419855
| Year | Make | Model | Submodel |
| --- | --- | --- | --- |
| 2021 | Buick | Encore | |
| 2021 | Buick | Encore GX | |
| 2021 | Cadillac | Escalade | |
| 2021 | Cadillac | XT4 | |
| 2021 | Chevrolet | Camaro | |
| 2021 | Chevrolet | Spark | |
| 2021 | Chevrolet | Suburban | |
| 2021 | Chevrolet | Tahoe | |
| 2021 | Chevrolet | Trailblazer | |
| 2021 | Chevrolet | Trax | |
| 2021 | GMC | Acadia | |
| 2021 | GMC | Canyon | |
| 2020 | Buick | Enclave | |
| 2020 | Buick | Encore | |
| 2020 | Buick | Envision | |
| 2020 | Buick | Regal | |
| 2020 | Cadillac | Escalade | |
| 2020 | Chevrolet | Blazer | |
| 2020 | Chevrolet | Colorado | |
| 2020 | Chevrolet | Equinox | |
| 2020 | Chevrolet | Express 4500 | |
| 2020 | Chevrolet | Impala | |
| 2020 | Chevrolet | Malibu | |
| 2020 | Chevrolet | Silverado 1500 | |
| 2020 | Chevrolet | Silverado 2500 | |
| 2020 | Chevrolet | Silverado 3500 | |
| 2020 | Chevrolet | Silverado 4500 | |
| 2020 | Chevrolet | Silverado 5500 | |
| 2020 | Chevrolet | Silverado 6500 | |
| 2020 | Chevrolet | Sonic | |
| 2020 | Chevrolet | Spark | |
| 2020 | Chevrolet | Tahoe | |
| 2020 | Chevrolet | Traverse | |
| 2020 | Chevrolet | Trax | |
| 2020 | GMC | Acadia | |
| 2020 | GMC | Canyon | |
| 2020 | GMC | Savana 2500 | |
| 2020 | GMC | Savana 3500 | |
| 2020 | GMC | Sierra 1500 | |
| 2020 | GMC | Sierra 2500 | |
| 2020 | GMC | Sierra 3500 | |
| 2020 | GMC | Terrain | |
| 2020 | GMC | Yukon | |
| 2020 | GMC | Yukon XL | |
| 2019 | Buick | Enclave | |
| 2019 | Buick | Encore | |
| 2019 | Buick | Envision | |
| 2019 | Buick | LaCrosse | |
| 2019 | Buick | Regal | |
| 2019 | Cadillac | Escalade | |
Show More