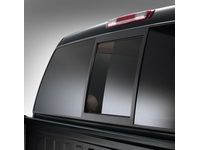 Genuine GM
12498122
Rear Sliding Window,Note:Regular Tint;
For Chevrolet Silverado 1500 2001-2007; Silverado 1500 HD 2001-2003, 2005-2007; Silverado 2500 2001-2004; Silverado 2500 HD 2001-2007; Silverado 3500 2001-2007; GMC Sierra 1500 2001-2007; Sierra 1500 HD 2001-2003, 2005-2007; Sierra 2500 2001-2004; Sierra 2500 HD 2001-2007; Sierra 3500 2001-2007
Add convenience, safety, and comfort to the cab of your Vehicle Classic with this Rear Sliding Window. It lets fresh air in and gives you access your rear cargo area without getting out of your Vehicle . The window closes with a dead bolt for increased security.
Manufacturer's Notes: This part is discontinued. It is no longer available for purchase.
Product Specifications
Warranty
Genuine GM parts are backed by GM's factory warranty which are high-quality vehicle-specific with the right fit the first time.
Part Fitment for 12498122
| Year | Make | Model | Submodel |
| --- | --- | --- | --- |
| 2007 | Chevrolet | Silverado 1500 | Classic 2WD, Classic 4WD, Classic Hybrid 2WD, Classic Hybrid 4WD, Classic SS |
| 2007 | Chevrolet | Silverado 1500 HD | 2WD, 4WD |
| 2007 | Chevrolet | Silverado 2500 HD | Classic 2WD, Classic 4WD |
| 2007 | Chevrolet | Silverado 3500 | 2WD, 4WD |
| 2007 | GMC | Sierra 1500 | Classic 2WD, Classic 4WD, Classic Denali AWD, Classic Hybrid 2WD, Classic Hybrid 4WD |
| 2007 | GMC | Sierra 1500 HD | 2WD, 4WD |
| 2007 | GMC | Sierra 2500 HD | Classic 2WD, Classic 4WD |
| 2007 | GMC | Sierra 3500 | 2WD, 4WD |
| 2006 | Chevrolet | Silverado 1500 | 2WD, 4WD, Hybrid 2WD, Hybrid 4WD, SS |
| 2006 | Chevrolet | Silverado 1500 HD | 2WD, 4WD |
| 2006 | Chevrolet | Silverado 2500 HD | 2WD, 4WD |
| 2006 | Chevrolet | Silverado 3500 | 2WD, 4WD |
| 2006 | GMC | Sierra 1500 | 2WD, 4WD, Denali AWD, Hybrid 2WD, Hybrid 4WD |
| 2006 | GMC | Sierra 1500 HD | 2WD, 4WD |
| 2006 | GMC | Sierra 2500 HD | 2WD, 4WD |
| 2006 | GMC | Sierra 3500 | 2WD, 4WD |
| 2005 | Chevrolet | Silverado 1500 | 2WD, 4WD, SS 4WD |
| 2005 | Chevrolet | Silverado 1500 HD | 2WD, 4WD |
| 2005 | Chevrolet | Silverado 2500 HD | 2WD, 4WD |
| 2005 | Chevrolet | Silverado 3500 | 2WD, 4WD |
| 2005 | GMC | Sierra 1500 | 2WD, 4WD, Hybrid 2WD, Hybrid 4WD |
| 2005 | GMC | Sierra 1500 HD | 2WD, 4WD |
| 2005 | GMC | Sierra 2500 HD | 2WD, 4WD |
| 2005 | GMC | Sierra 3500 | 2WD, 4WD |
| 2004 | Chevrolet | Silverado 1500 | 2WD, 4WD, SS 4WD |
| 2004 | Chevrolet | Silverado 2500 | 2WD, 4WD |
| 2004 | Chevrolet | Silverado 2500 HD | 2WD, 4WD |
| 2004 | Chevrolet | Silverado 3500 | 2WD, 4WD |
| 2004 | GMC | Sierra 1500 | 2WD, 4WD |
| 2004 | GMC | Sierra 2500 | 2WD, 4WD |
| 2004 | GMC | Sierra 2500 HD | 2WD, 4WD |
| 2004 | GMC | Sierra 3500 | 2WD, 4WD |
| 2003 | Chevrolet | Silverado 1500 | 2WD, 4WD, SS 4WD |
| 2003 | Chevrolet | Silverado 1500 HD | 2WD, 4WD |
| 2003 | Chevrolet | Silverado 2500 | 2WD, 4WD |
| 2003 | Chevrolet | Silverado 2500 HD | 2WD, 4WD |
| 2003 | Chevrolet | Silverado 3500 | 2WD, 4WD |
| 2003 | GMC | Sierra 1500 | 2WD, 4WD |
| 2003 | GMC | Sierra 1500 HD | 2WD, 4WD |
| 2003 | GMC | Sierra 2500 | 2WD, 4WD |
| 2003 | GMC | Sierra 2500 HD | 2WD, 4WD |
| 2003 | GMC | Sierra 3500 | 2WD, 4WD |
| 2002 | Chevrolet | Silverado 1500 | 2WD, 4WD |
| 2002 | Chevrolet | Silverado 1500 HD | |
| 2002 | Chevrolet | Silverado 2500 | 2WD, 4WD |
| 2002 | Chevrolet | Silverado 2500 HD | 2WD, 4WD |
| 2002 | Chevrolet | Silverado 3500 | 2WD, 4WD |
| 2002 | GMC | Sierra 1500 | 2WD, 4WD |
| 2002 | GMC | Sierra 1500 HD | |
| 2002 | GMC | Sierra 2500 | 2WD, 4WD |
Show More