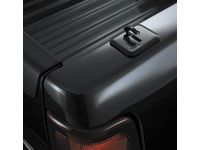 Genuine GM
12498616
Tie Down Hooks - Bed Mounted,Retractable,Note:Package of 4,Black;
For Chevrolet Silverado 1500 2001-2007; Silverado 1500 HD 2001-2003, 2005-2007; Silverado 2500 2001-2004; Silverado 2500 HD 2001-2007; GMC Sierra 1500 2001-2007; Sierra 1500 HD 2001-2003, 2005-2007; Sierra 2500 2001-2004; Sierra 2500 HD 2001-2007
Enhance the cargo capability of your pick-up box with these flush mounted tie-down hooks that recede out of sight when not in use.Pop up when needed to secure cargo in your vehicle.Mount into the stake pockets.
Manufacturer's Notes: This part is discontinued. It is no longer available for purchase.
Product Specifications
Installation Instruction
Warranty
Genuine GM parts are backed by GM's factory warranty which are high-quality vehicle-specific with the right fit the first time.
Part Fitment for 12498616
| Year | Make | Model | Submodel |
| --- | --- | --- | --- |
| 2007 | Chevrolet | Silverado 1500 | Classic 2WD, Classic 4WD, Classic Hybrid 2WD, Classic Hybrid 4WD, Classic SS |
| 2007 | Chevrolet | Silverado 1500 HD | 2WD, 4WD |
| 2007 | Chevrolet | Silverado 2500 HD | Classic 2WD, Classic 4WD |
| 2007 | GMC | Sierra 1500 | Classic 2WD, Classic 4WD, Classic Hybrid 2WD, Classic Hybrid 4WD |
| 2007 | GMC | Sierra 1500 HD | 2WD, 4WD |
| 2007 | GMC | Sierra 2500 HD | Classic 2WD, Classic 4WD |
| 2006 | Chevrolet | Silverado 1500 | 2WD, 4WD, Hybrid 2WD, Hybrid 4WD, SS |
| 2006 | Chevrolet | Silverado 1500 HD | 2WD, 4WD |
| 2006 | Chevrolet | Silverado 2500 HD | 2WD, 4WD |
| 2006 | GMC | Sierra 1500 | 2WD, 4WD, Hybrid 2WD, Hybrid 4WD |
| 2006 | GMC | Sierra 1500 HD | 2WD, 4WD |
| 2006 | GMC | Sierra 2500 HD | 2WD, 4WD |
| 2005 | Chevrolet | Silverado 1500 | 2WD, 4WD, SS 4WD |
| 2005 | Chevrolet | Silverado 1500 HD | 2WD, 4WD |
| 2005 | Chevrolet | Silverado 2500 HD | 2WD, 4WD |
| 2005 | GMC | Sierra 1500 | 2WD, 4WD, Hybrid 2WD, Hybrid 4WD |
| 2005 | GMC | Sierra 1500 HD | 2WD, 4WD |
| 2005 | GMC | Sierra 2500 HD | 2WD, 4WD |
| 2004 | Chevrolet | Silverado 1500 | 2WD, 4WD, SS 4WD |
| 2004 | Chevrolet | Silverado 2500 | 2WD, 4WD |
| 2004 | Chevrolet | Silverado 2500 HD | 2WD, 4WD |
| 2004 | GMC | Sierra 1500 | 2WD, 4WD |
| 2004 | GMC | Sierra 2500 | 2WD, 4WD |
| 2004 | GMC | Sierra 2500 HD | 2WD, 4WD |
| 2003 | Chevrolet | Silverado 1500 | 2WD, 4WD, SS 4WD |
| 2003 | Chevrolet | Silverado 1500 HD | 2WD, 4WD |
| 2003 | Chevrolet | Silverado 2500 | 2WD, 4WD |
| 2003 | Chevrolet | Silverado 2500 HD | 2WD, 4WD |
| 2003 | GMC | Sierra 1500 | 2WD, 4WD |
| 2003 | GMC | Sierra 1500 HD | 2WD, 4WD |
| 2003 | GMC | Sierra 2500 | 2WD, 4WD |
| 2003 | GMC | Sierra 2500 HD | 2WD, 4WD |
| 2002 | Chevrolet | Silverado 1500 | 2WD, 4WD |
| 2002 | Chevrolet | Silverado 1500 HD | |
| 2002 | Chevrolet | Silverado 2500 | 2WD, 4WD |
| 2002 | Chevrolet | Silverado 2500 HD | 2WD, 4WD |
| 2002 | GMC | Sierra 1500 | 2WD, 4WD |
| 2002 | GMC | Sierra 1500 HD | |
| 2002 | GMC | Sierra 2500 | 2WD, 4WD |
| 2002 | GMC | Sierra 2500 HD | 2WD, 4WD |
| 2001 | Chevrolet | Silverado 1500 | 2WD, 4WD |
| 2001 | Chevrolet | Silverado 1500 HD | |
| 2001 | Chevrolet | Silverado 2500 | 2WD, 4WD |
| 2001 | Chevrolet | Silverado 2500 HD | 2WD, 4WD |
| 2001 | GMC | Sierra 1500 | 2WD, 4WD |
| 2001 | GMC | Sierra 1500 HD | |
| 2001 | GMC | Sierra 2500 | 2WD, 4WD |
| 2001 | GMC | Sierra 2500 HD | 2WD, 4WD |
Show More