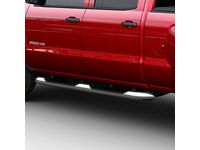 Genuine GM
22805436
Crew Cab 4-Inch Round Assist Steps in Chrome
For Chevrolet Silverado 1500 2014-2018; Silverado 2500 2019; Silverado 2500 HD 2015-2018; Silverado 3500 2019; Silverado 3500 HD 2015-2018; GMC Sierra 1500 2014-2018; Sierra 2500 2019; Sierra 2500 HD 2015-2018; Sierra 3500 2019; Sierra 3500 HD 2015-2018
Sturdy assist step design makes it easier to get in and out of your vehicle
Textured step surface helps ensure maximum traction and accessibility
Made to withstand the elements
Make it easier to get into and out of your vehicle with these sturdy GMC Accessories Assist Steps. They include mounting hardware and a traction pad with molded plastic grooves for more stable footing.
Product Specifications
Bar Color

Black

Step Pad Surface Width

4.2 in

Step Pads Included

Yes

Mounting Hardware Included

Yes

Step Pad Material

Plastic

Length

87.2 in

Step Pad Surface Length

28.2 in

Shape

Round

Step Pad Color

Black

Bracket Material

Steel

Packaging Quantity

1

Packaging Height

12.19

Packaging Length

82.44

Packaging Width

14.25

Packaging Weight

51.49
Installation Instruction
Warranty
Genuine GM parts are backed by GM's factory warranty which are high-quality vehicle-specific with the right fit the first time.
Part Fitment for 22805436
| Year | Make | Model | Submodel |
| --- | --- | --- | --- |
| 2019 | Chevrolet | Silverado 2500 | |
| 2019 | Chevrolet | Silverado 3500 | |
| 2019 | GMC | Sierra 2500 | |
| 2019 | GMC | Sierra 3500 | |
| 2018 | Chevrolet | Silverado 1500 | 2WD, 4WD, Hybrid 2WD, Hybrid 4WD |
| 2018 | Chevrolet | Silverado 2500 HD | 2WD, 4WD |
| 2018 | Chevrolet | Silverado 3500 HD | 2WD, 4WD |
| 2018 | GMC | Sierra 1500 | 2WD, 4WD, Denali 2WD, Denali 4WD, Hybrid 2WD, Hybrid 4WD |
| 2018 | GMC | Sierra 2500 HD | 2WD, 4WD, Denali 2WD, Denali 4WD |
| 2018 | GMC | Sierra 3500 HD | 2WD, 4WD, Denali 2WD, Denali 4WD |
| 2017 | Chevrolet | Silverado 1500 | 2WD, 4WD, Hybrid 2WD, Hybrid 4WD |
| 2017 | Chevrolet | Silverado 2500 HD | 2WD, 4WD |
| 2017 | Chevrolet | Silverado 3500 HD | 2WD, 4WD |
| 2017 | GMC | Sierra 1500 | 2WD, 4WD, Denali 2WD, Denali 4WD, Hybrid 2WD, Hybrid 4WD |
| 2017 | GMC | Sierra 2500 HD | 2WD, 4WD, Denali 2WD, Denali 4WD |
| 2017 | GMC | Sierra 3500 HD | 2WD, 4WD, Denali 2WD, Denali 4WD |
| 2016 | Chevrolet | Silverado 1500 | 2WD, 4WD, Hybrid 2WD, Hybrid 4WD |
| 2016 | Chevrolet | Silverado 2500 HD | 2WD, 4WD |
| 2016 | Chevrolet | Silverado 3500 HD | 2WD, 4WD |
| 2016 | GMC | Sierra 1500 | 2WD, 4WD, Denali 2WD, Denali 4WD, Hybrid 2WD, Hybrid 4WD |
| 2016 | GMC | Sierra 2500 HD | 2WD, 4WD, Denali 2WD, Denali 4WD |
| 2016 | GMC | Sierra 3500 HD | 2WD, 4WD, Denali 2WD, Denali 4WD |
| 2015 | Chevrolet | Silverado 1500 | 2WD, 4WD |
| 2015 | Chevrolet | Silverado 2500 HD | 2WD, 4WD |
| 2015 | Chevrolet | Silverado 3500 HD | 2WD, 4WD |
| 2015 | GMC | Sierra 1500 | 2WD, 4WD, Denali 2WD, Denali 4WD |
| 2015 | GMC | Sierra 2500 HD | 2WD, 4WD, Denali 2WD, Denali 4WD |
| 2015 | GMC | Sierra 3500 HD | 2WD, 4WD, Denali 2WD, Denali 4WD |
| 2014 | Chevrolet | Silverado 1500 | 2WD, 4WD |
| 2014 | GMC | Sierra 1500 | 2WD, 4WD, Denali 2WD, Denali 4WD |
Show More