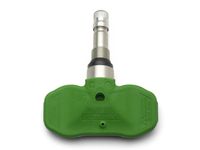 Genuine GM
19155710
Tire Pressure Monitor (XL7 - 315 MHz)
For Buick Enclave 2008-2010, 2013-2015; Lucerne 2010-2011; Cadillac CTS 2005-2007, 2009-2014; DTS 2010-2011; Escalade 2011-2012; Escalade ESV 2011-2012; Escalade EXT 2011-2012; XLR 2006-2007; Chevrolet Avalanche 2011-2012; Camaro 2011-2015; Cobalt 2008-2010; Corvette 2005-2011; Equinox 2010-2012; HHR 2008-2011; Impala 2013-2016; Malibu 2010-2012; Silverado 1500 2011-2012; Suburban 1500 2011-2012; Suburban 2500 2011; Tahoe 2011-2012; Traverse 2009-2010, 2013-2015; GMC Acadia 2007-2010, 2013-2015; Sierra 1500 2011-2012; Terrain 2010-2012; Yukon 2011-2012; Yukon XL 1500 2011-2012
Monitor and provide information about your vehicle's tire pressure with the GM Accessories Tire Pressure Indicator. It is a sensor located at the inside end of the valve stem that informs the driver when tire pressure levels are low. Included with the sensor are a grommet and cap. This GM accessory can help to personalize, customize, or optimize the capability of your vehicle for your lifestyle and use.
Manufacturer's Notes: This part is discontinued. It is no longer available for purchase.
Product Specifications
Activation Type

Scan Tool

Gasket Or Seal Included

Yes

Material

Aluminum

Maximum Pressure Reading

116.0

Meets or Exceeds Original Equipment Manufacture Specifications

Yes

Monitor Type

Direct

Mounting Hardware Included

No

Mounting Method

Valve Stem Nut

Power Source

Battery

Real Time Pressure Signal Transmission

Yes

Universal Or Specific Fit

Specific

Valve Color

Silver

Valve Length

1.6
Installation Instruction
Warranty
Genuine GM parts are backed by GM's factory warranty which are high-quality vehicle-specific with the right fit the first time.
Part Fitment for 19155710
| Year | Make | Model | Submodel |
| --- | --- | --- | --- |
| 2016 | Chevrolet | Impala | Limited |
| 2015 | Buick | Enclave | 2WD, AWD |
| 2015 | Chevrolet | Camaro | Convertible, Coupe |
| 2015 | Chevrolet | Impala | Limited |
| 2015 | Chevrolet | Traverse | 2WD, AWD |
| 2015 | GMC | Acadia | 2WD, AWD |
| 2014 | Buick | Enclave | 2WD, AWD |
| 2014 | Cadillac | CTS | Coupe, Sedan, V-Series Sedan, Wagon |
| 2014 | Chevrolet | Camaro | Convertible, Coupe |
| 2014 | Chevrolet | Impala | Limited |
| 2014 | Chevrolet | Traverse | 2WD, AWD |
| 2014 | GMC | Acadia | 2WD, AWD |
| 2013 | Buick | Enclave | 2WD, AWD |
| 2013 | Cadillac | CTS | Coupe, Sedan, Wagon |
| 2013 | Chevrolet | Camaro | Convertible, Coupe |
| 2013 | Chevrolet | Impala | |
| 2013 | Chevrolet | Traverse | 2WD, AWD |
| 2013 | GMC | Acadia | 2WD, AWD |
| 2012 | Cadillac | CTS | Coupe, Sedan, Wagon |
| 2012 | Cadillac | Escalade | 2WD, AWD |
| 2012 | Cadillac | Escalade ESV | 2WD, AWD |
| 2012 | Cadillac | Escalade EXT | |
| 2012 | Chevrolet | Avalanche | 2WD, 4WD |
| 2012 | Chevrolet | Camaro | Convertible, Coupe |
| 2012 | Chevrolet | Equinox | |
| 2012 | Chevrolet | Malibu | |
| 2012 | Chevrolet | Silverado 1500 | 2WD, 4WD, Hybrid 2WD, Hybrid 4WD |
| 2012 | Chevrolet | Suburban 1500 | 2WD, 4WD |
| 2012 | Chevrolet | Tahoe | 2WD, 4WD, Hybrid 2WD, Hybrid 4WD |
| 2012 | GMC | Sierra 1500 | 2WD, 4WD, Denali 2WD, Denali AWD, Hybrid 2WD, Hybrid 4WD |
| 2012 | GMC | Terrain | |
| 2012 | GMC | Yukon | 2WD, 4WD, Denali 2WD, Denali AWD, Denali Hybrid 2WD, Denali Hybrid 4WD, Hybrid 2WD, Hybrid 4WD |
| 2012 | GMC | Yukon XL 1500 | 2WD, 4WD, Denali 2WD, Denali AWD |
| 2011 | Buick | Lucerne | |
| 2011 | Cadillac | CTS | Coupe, Sedan, Wagon |
| 2011 | Cadillac | DTS | |
| 2011 | Cadillac | Escalade | 2WD, AWD |
| 2011 | Cadillac | Escalade ESV | 2WD, AWD |
| 2011 | Cadillac | Escalade EXT | |
| 2011 | Chevrolet | Avalanche | 2WD, 4WD |
| 2011 | Chevrolet | Camaro | Convertible, Coupe |
| 2011 | Chevrolet | Corvette | |
| 2011 | Chevrolet | Equinox | |
| 2011 | Chevrolet | HHR | |
| 2011 | Chevrolet | Malibu | |
| 2011 | Chevrolet | Silverado 1500 | 2WD, 4WD, Hybrid 2WD, Hybrid 4WD |
| 2011 | Chevrolet | Suburban 1500 | 2WD, 4WD |
| 2011 | Chevrolet | Suburban 2500 | 2WD, 4WD |
| 2011 | Chevrolet | Tahoe | 2WD, 4WD, Hybrid 2WD, Hybrid 4WD |
| 2011 | GMC | Sierra 1500 | 2WD, 4WD, Denali 2WD, Denali AWD, Hybrid 2WD, Hybrid 4WD |
Show More