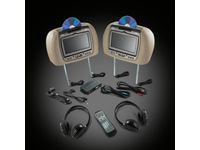 Genuine GM
22840268
Rear-Seat Entertainment System with DVD Player in Cashmere Vinyl
For Cadillac Escalade 2010-2013; Escalade ESV 2010-2013; Chevrolet Avalanche 2010-2013; Silverado 1500 2010-2013; Silverado 2500 HD 2010-2014; Silverado 3500 HD 2010-2014; Suburban 1500 2010-2014; Suburban 2500 2010-2013; Tahoe 2010-2014; GMC Sierra 1500 2010-2013; Sierra 2500 HD 2010-2014; Sierra 3500 HD 2010-2014; Yukon 2010-2014; Yukon XL 1500 2010-2014; Yukon XL 2500 2010-2013
Make every mile memorale by keeping passengers entertained
Easy-to-use technology
Color coordinated to match the interior of your vehicle
Manufacturer's Notes: This part is discontinued. It is no longer available for purchase.
Product Specifications
Body Color

Light Cashmere

Combination TV

Yes

Component Video Input Quantity

1

Ethernet Port

No

Mounting Hardware Included

Yes

Power Source

12V

USB Port

Yes
Installation Instruction
Warranty
Genuine GM parts are backed by GM's factory warranty which are high-quality vehicle-specific with the right fit the first time.
Part Fitment for 22840268
| Year | Make | Model | Submodel |
| --- | --- | --- | --- |
| 2014 | Chevrolet | Silverado 2500 HD | 2WD, 4WD |
| 2014 | Chevrolet | Silverado 3500 HD | 2WD, 4WD |
| 2014 | Chevrolet | Suburban 1500 | 2WD, 4WD |
| 2014 | Chevrolet | Tahoe | 2WD, 4WD |
| 2014 | GMC | Sierra 2500 HD | 2WD, 4WD, Denali 2WD, Denali 4WD |
| 2014 | GMC | Sierra 3500 HD | 2WD, 4WD, Denali 2WD, Denali 4WD |
| 2014 | GMC | Yukon | 2WD, 4WD, Denali 2WD, Denali AWD |
| 2014 | GMC | Yukon XL 1500 | 2WD, 4WD, Denali 2WD, Denali AWD |
| 2013 | Cadillac | Escalade | 2WD, AWD |
| 2013 | Cadillac | Escalade ESV | 2WD, AWD |
| 2013 | Chevrolet | Avalanche | 2WD, 4WD |
| 2013 | Chevrolet | Silverado 1500 | 2WD, 4WD, Hybrid 2WD, Hybrid 4WD |
| 2013 | Chevrolet | Silverado 2500 HD | 2WD, 4WD |
| 2013 | Chevrolet | Silverado 3500 HD | 2WD, 4WD |
| 2013 | Chevrolet | Suburban 1500 | 2WD, 4WD |
| 2013 | Chevrolet | Suburban 2500 | 2WD, 4WD |
| 2013 | Chevrolet | Tahoe | 2WD, 4WD, Hybrid 2WD, Hybrid 4WD |
| 2013 | GMC | Sierra 1500 | 2WD, 4WD, Denali 2WD, Denali AWD, Hybrid 2WD, Hybrid 4WD |
| 2013 | GMC | Sierra 2500 HD | 2WD, 4WD, Denali 2WD, Denali 4WD |
| 2013 | GMC | Sierra 3500 HD | 2WD, 4WD, Denali 2WD, Denali 4WD |
| 2013 | GMC | Yukon | 2WD, 4WD, Denali 2WD, Denali AWD, Denali Hybrid 2WD, Denali Hybrid 4WD, Hybrid 2WD, Hybrid 4WD |
| 2013 | GMC | Yukon XL 1500 | 2WD, 4WD, Denali 2WD, Denali AWD |
| 2013 | GMC | Yukon XL 2500 | 2WD, 4WD |
| 2012 | Cadillac | Escalade | 2WD, AWD |
| 2012 | Cadillac | Escalade ESV | 2WD, AWD |
| 2012 | Chevrolet | Avalanche | 2WD, 4WD |
| 2012 | Chevrolet | Silverado 1500 | 2WD, 4WD, Hybrid 2WD, Hybrid 4WD |
| 2012 | Chevrolet | Silverado 2500 HD | 2WD, 4WD |
| 2012 | Chevrolet | Silverado 3500 HD | 2WD, 4WD |
| 2012 | Chevrolet | Suburban 1500 | 2WD, 4WD |
| 2012 | Chevrolet | Suburban 2500 | 2WD, 4WD |
| 2012 | Chevrolet | Tahoe | 2WD, 4WD, Hybrid 2WD, Hybrid 4WD |
| 2012 | GMC | Sierra 1500 | 2WD, 4WD, Denali 2WD, Denali AWD, Hybrid 2WD, Hybrid 4WD |
| 2012 | GMC | Sierra 2500 HD | 2WD, 4WD, Denali 2WD, Denali 4WD |
| 2012 | GMC | Sierra 3500 HD | 2WD, 4WD, Denali 2WD, Denali 4WD |
| 2012 | GMC | Yukon | 2WD, 4WD, Denali 2WD, Denali AWD, Denali Hybrid 2WD, Denali Hybrid 4WD, Hybrid 2WD, Hybrid 4WD |
| 2012 | GMC | Yukon XL 1500 | 2WD, 4WD, Denali 2WD, Denali AWD |
| 2012 | GMC | Yukon XL 2500 | 2WD, 4WD |
| 2011 | Cadillac | Escalade | 2WD, AWD |
| 2011 | Cadillac | Escalade ESV | 2WD, AWD |
| 2011 | Chevrolet | Avalanche | 2WD, 4WD |
| 2011 | Chevrolet | Silverado 1500 | 2WD, 4WD, Hybrid 2WD, Hybrid 4WD |
| 2011 | Chevrolet | Silverado 2500 HD | 2WD, 4WD |
| 2011 | Chevrolet | Silverado 3500 HD | 2WD, 4WD |
| 2011 | Chevrolet | Suburban 1500 | 2WD, 4WD |
| 2011 | Chevrolet | Suburban 2500 | 2WD, 4WD |
| 2011 | Chevrolet | Tahoe | 2WD, 4WD, Hybrid 2WD, Hybrid 4WD |
| 2011 | GMC | Sierra 1500 | 2WD, 4WD, Denali 2WD, Denali AWD, Hybrid 2WD, Hybrid 4WD |
| 2011 | GMC | Sierra 2500 HD | 2WD, 4WD, Denali 2WD, Denali 4WD |
| 2011 | GMC | Sierra 3500 HD | 2WD, 4WD, Denali 2WD, Denali 4WD |
Show More