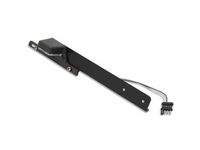 Genuine GM
12495709
License Plate Holder - Hitch-Mounted,Note:Includes Hardware;
For Buick Rainier 2005-2007; Terraza 2005-2007; Cadillac Escalade 2007; Escalade ESV 2007; Escalade EXT 2007; Chevrolet Avalanche 2007; Avalanche 1500 2006; Avalanche 2500 2006; C3500 2001-2002; Colorado 2004-2007; Equinox 2005-2007; Express 1500 2001-2007; Express 2500 2001-2007; Express 3500 2001-2007; Silverado 1500 2001-2007; Silverado 1500 HD 2001-2003, 2005-2007; Silverado 2500 2001-2004; Silverado 2500 HD 2001-2007; Silverado 3500 2001-2007; Silverado 3500 HD 2007; Suburban 1500 2006-2007; Suburban 2500 2006-2007; Tahoe 2006-2007; Trailblazer 2002-2007; Trailblazer EXT 2002-2006; Uplander 2005-2007; GMC Acadia 2007; Canyon 2004-2007; Savana 1500 2001-2007; Savana 2500 2001-2007; Savana 3500 2001-2007; Sierra 1500 2001-2007; Sierra 1500 HD 2001-2003, 2005-2007; Sierra 2500 2001-2004; Sierra 2500 HD 2001-2007; Sierra 3500 2001-2007; Sierra 3500 HD 2007; Yukon 2006-2007; Yukon XL 1500 2006-2007; Yukon XL 2500 2006-2007; Pontiac Montana 2006-2007; Torrent 2006-2009
Use this Hitch-Mounted License Plate Holder on your vehicle to make your license plate clearly visible when using a bike/ski carrier.This item is required in some States.Check your local laws.
Manufacturer's Notes: This part is discontinued. It is no longer available for purchase.
Product Specifications
Warranty
Genuine GM parts are backed by GM's factory warranty which are high-quality vehicle-specific with the right fit the first time.
Part Fitment for 12495709
| Year | Make | Model | Submodel |
| --- | --- | --- | --- |
| 2009 | Pontiac | Torrent | |
| 2008 | Pontiac | Torrent | |
| 2007 | Buick | Rainier | 2WD, AWD |
| 2007 | Buick | Terraza | |
| 2007 | Cadillac | Escalade | 2WD, AWD |
| 2007 | Cadillac | Escalade ESV | |
| 2007 | Cadillac | Escalade EXT | |
| 2007 | Chevrolet | Avalanche | 2WD, 4WD |
| 2007 | Chevrolet | Colorado | 2WD, 4WD |
| 2007 | Chevrolet | Equinox | |
| 2007 | Chevrolet | Express 1500 | 2WD, AWD |
| 2007 | Chevrolet | Express 2500 | |
| 2007 | Chevrolet | Express 3500 | |
| 2007 | Chevrolet | Silverado 1500 | Classic 2WD, Classic 4WD, Classic Hybrid 2WD, Classic Hybrid 4WD, Classic SS, New Style 2WD, New Style 4WD |
| 2007 | Chevrolet | Silverado 1500 HD | 2WD, 4WD |
| 2007 | Chevrolet | Silverado 2500 HD | Classic 2WD, Classic 4WD, New Style 2WD, New Style 4WD |
| 2007 | Chevrolet | Silverado 3500 | 2WD, 4WD |
| 2007 | Chevrolet | Silverado 3500 HD | 2WD, 4WD |
| 2007 | Chevrolet | Suburban 1500 | 2WD, 4WD |
| 2007 | Chevrolet | Suburban 2500 | 2WD, 4WD |
| 2007 | Chevrolet | Tahoe | 2WD, 4WD |
| 2007 | Chevrolet | Trailblazer | 2WD, 4WD, SS 2WD, SS AWD |
| 2007 | Chevrolet | Uplander | |
| 2007 | GMC | Acadia | 2WD, AWD |
| 2007 | GMC | Canyon | 2WD, 4WD |
| 2007 | GMC | Savana 1500 | 2WD, AWD |
| 2007 | GMC | Savana 2500 | |
| 2007 | GMC | Savana 3500 | |
| 2007 | GMC | Sierra 1500 | Classic 2WD, Classic 4WD, Classic Denali AWD, Classic Hybrid 2WD, Classic Hybrid 4WD, New Style 2WD, New Style 4WD, New Style Denali 2WD, New Style Denali AWD |
| 2007 | GMC | Sierra 1500 HD | 2WD, 4WD |
| 2007 | GMC | Sierra 2500 HD | Classic 2WD, Classic 4WD, New Style 2WD, New Style 4WD |
| 2007 | GMC | Sierra 3500 | 2WD, 4WD |
| 2007 | GMC | Sierra 3500 HD | 2WD, 4WD |
| 2007 | GMC | Yukon | 2WD, 4WD, Denali AWD |
| 2007 | GMC | Yukon XL 1500 | 2WD, 4WD, Denali AWD |
| 2007 | GMC | Yukon XL 2500 | 2WD, 4WD |
| 2007 | Pontiac | Montana | |
| 2007 | Pontiac | Torrent | |
| 2006 | Buick | Rainier | 2WD, AWD |
| 2006 | Buick | Terraza | 2WD, AWD |
| 2006 | Chevrolet | Avalanche 1500 | 2WD, 4WD |
| 2006 | Chevrolet | Avalanche 2500 | |
| 2006 | Chevrolet | Colorado | 2WD, 4WD |
| 2006 | Chevrolet | Equinox | |
| 2006 | Chevrolet | Express 1500 | 2WD, AWD |
| 2006 | Chevrolet | Express 2500 | |
| 2006 | Chevrolet | Express 3500 | |
| 2006 | Chevrolet | Silverado 1500 | 2WD, 4WD, Hybrid 2WD, Hybrid 4WD, SS |
| 2006 | Chevrolet | Silverado 1500 HD | 2WD, 4WD |
| 2006 | Chevrolet | Silverado 2500 HD | 2WD, 4WD |
Show More