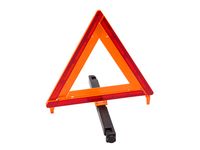 Genuine GM
22745654
Roadside Emergency Reflective Triangle
For Buick Enclave 2015 - 2020; Envision 2016 - 2017; LaCrosse 2017 - 2019; Rainier 2005 - 2007; Regal 2018 - 2020; Cadillac ATS 2013 - 2019; CT5 2020; CT6 2016 - 2020; CTS 2003 - 2019; DTS 2006 - 2007; ELR 2014 - 2016; Escalade 2007, 2015 - 2020; Escalade ESV 2007, 2015 - 2018; Escalade EXT 2007; SRX 2004 - 2007, 2010 - 2016; STS 2005 - 2011; XLR 2004 - 2007; XT4 2019 - 2020; XT5 2017 - 2020; XT6 2020; XTS 2014 - 2016; Chevrolet Avalanche 2007; Blazer 2019 - 2020; Bolt EV 2019 - 2020; Camaro 2016 - 2019; Colorado 2015 - 2020; Corvette 2003 - 2007; Cruze 2019; Equinox 2014 - 2020; Express 1500 2003 - 2007, 2014; Express 2500 2003 - 2007, 2014 - 2018; Express 3500 2003 - 2007, 2014 - 2018; Express 4500 2014 - 2016, 2018 - 2020; Impala 2014 - 2020; Malibu 2016 - 2019; Silverado 1500 2003 - 2007, 2014 - 2020; Silverado 1500 HD 2003, 2005 - 2007; Silverado 2500 2003 - 2004, 2019 - 2020; Silverado 2500 HD 2003 - 2007, 2015 - 2018; Silverado 3500 2003 - 2007, 2019 - 2020; Silverado 3500 HD 2007, 2015 - 2018; Suburban 2015 - 2020; Suburban 1500 2007; Suburban 2500 2007; Suburban 3500 HD 2016 - 2018; Tahoe 2007, 2015 - 2019; Trailblazer 2003 - 2007; Trailblazer EXT 2003 - 2006; Traverse 2015 - 2020; Volt 2016 - 2019; GMC Acadia 2015 - 2020; Canyon 2015 - 2020; Envoy 2003 - 2007; Envoy XL 2003 - 2006; Envoy XUV 2004 - 2005; Savana 1500 2003 - 2007, 2014; Savana 2500 2003 - 2007, 2014 - 2020; Savana 3500 2003 - 2007, 2014 - 2020; Savana 4500 2014 - 2016; Sierra 1500 2003 - 2007, 2014 - 2020; Sierra 1500 HD 2003, 2005 - 2007; Sierra 2500 2003 - 2004, 2019 - 2020; Sierra 2500 HD 2003 - 2007, 2015 - 2018; Sierra 3500 2003 - 2007, 2019 - 2020; Sierra 3500 HD 2007, 2015 - 2018; Terrain 2010 - 2020; Yukon 2007, 2015 - 2020; Yukon XL 2015 - 2020; Yukon XL 1500 2007; Yukon XL 2500 2007
Reflective design increases roadside visibility for practical and reliable emergency preparedness
Compact fold-up design for easy storage
Signal caution to other drivers during unexpected roadside stops or other emergency events with this GMC Accessories Reflective Triangle. It folds up into a convenient carrying case when not in use.
Product Specifications
Self Supporting

Yes

Colors

Bright Fluorescent Orange

Height

17.0 in

Base Length

17.8

Material

Plastic

Packaging Quantity

1

Packaging Height

4.75

Packaging Length

12.38

Packaging Width

12.38

Packaging Weight

3.17
Installation Instruction
Warranty
Genuine GM parts are backed by GM's factory warranty which are high-quality vehicle-specific with the right fit the first time.
Part Fitment for 22745654
Year

Make

Model

Submodel

2020

Buick

Enclave

2020

Buick

Regal

2020

Cadillac

CT5

2020

Cadillac

CT6

2020

Cadillac

Escalade

2020

Cadillac

XT4

2020

Cadillac

XT5

2020

Cadillac

XT6

2020

Chevrolet

Blazer

2020

Chevrolet

Bolt EV
Show More