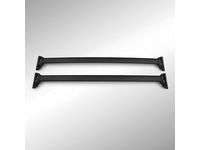 Genuine GM
12499404
Removable Roof Rack T-Slot Cross Rails in Black
For Chevrolet Avalanche 2007-2013; Silverado 1500 2007-2013; Silverado 2500 HD 2007-2014; Silverado 3500 HD 2007-2014; Suburban 1500 2007-2014; Suburban 2500 2007-2013; GMC Sierra 1500 2007-2013; Sierra 2500 HD 2007-2014; Sierra 3500 HD 2007-2014; Yukon XL 1500 2007-2014; Yukon XL 2500 2007-2013
Carry a cargo load on your roof with the GM Accessories Removable Roof Rack. Serving as the base for your roof mounted cargo management accessories, this roof rack adds both function and style. These GM Accessories can help to personalize, customize, or optimize the capability of your vehicle for your lifestyle and use.
Product Specifications
Adjustable

Yes

Attachment Type

Bolt On

Length

2.6

Mounting Hardware Included

Yes

Thickness

1.291

Universal Or Specific Fit

Specific

Width

40.1
Installation Instruction
Warranty
Genuine GM parts are backed by GM's factory warranty which are high-quality vehicle-specific with the right fit the first time.
Part Fitment for 12499404
| Year | Make | Model | Submodel |
| --- | --- | --- | --- |
| 2014 | Chevrolet | Silverado 2500 HD | 2WD, 4WD |
| 2014 | Chevrolet | Silverado 3500 HD | 2WD, 4WD |
| 2014 | Chevrolet | Suburban 1500 | 2WD, 4WD |
| 2014 | GMC | Sierra 2500 HD | 2WD, 4WD, Denali 2WD, Denali 4WD |
| 2014 | GMC | Sierra 3500 HD | 2WD, 4WD, Denali 2WD, Denali 4WD |
| 2014 | GMC | Yukon XL 1500 | 2WD, 4WD, Denali 2WD, Denali AWD |
| 2013 | Chevrolet | Avalanche | 2WD, 4WD |
| 2013 | Chevrolet | Silverado 1500 | 2WD, 4WD, Hybrid 2WD, Hybrid 4WD |
| 2013 | Chevrolet | Silverado 2500 HD | 2WD, 4WD |
| 2013 | Chevrolet | Silverado 3500 HD | 2WD, 4WD |
| 2013 | Chevrolet | Suburban 1500 | 2WD, 4WD |
| 2013 | Chevrolet | Suburban 2500 | 2WD, 4WD |
| 2013 | GMC | Sierra 1500 | 2WD, 4WD, Denali 2WD, Denali AWD, Hybrid 2WD, Hybrid 4WD |
| 2013 | GMC | Sierra 2500 HD | 2WD, 4WD, Denali 2WD, Denali 4WD |
| 2013 | GMC | Sierra 3500 HD | 2WD, 4WD, Denali 2WD, Denali 4WD |
| 2013 | GMC | Yukon XL 1500 | 2WD, 4WD, Denali 2WD, Denali AWD |
| 2013 | GMC | Yukon XL 2500 | 2WD, 4WD |
| 2012 | Chevrolet | Avalanche | 2WD, 4WD |
| 2012 | Chevrolet | Silverado 1500 | 2WD, 4WD, Hybrid 2WD, Hybrid 4WD |
| 2012 | Chevrolet | Silverado 2500 HD | 2WD, 4WD |
| 2012 | Chevrolet | Silverado 3500 HD | 2WD, 4WD |
| 2012 | Chevrolet | Suburban 1500 | 2WD, 4WD |
| 2012 | Chevrolet | Suburban 2500 | 2WD, 4WD |
| 2012 | GMC | Sierra 1500 | 2WD, 4WD, Denali 2WD, Denali AWD, Hybrid 2WD, Hybrid 4WD |
| 2012 | GMC | Sierra 2500 HD | 2WD, 4WD, Denali 2WD, Denali 4WD |
| 2012 | GMC | Sierra 3500 HD | 2WD, 4WD, Denali 2WD, Denali 4WD |
| 2012 | GMC | Yukon XL 1500 | 2WD, 4WD, Denali 2WD, Denali AWD |
| 2012 | GMC | Yukon XL 2500 | 2WD, 4WD |
| 2011 | Chevrolet | Avalanche | 2WD, 4WD |
| 2011 | Chevrolet | Silverado 1500 | 2WD, 4WD, Hybrid 2WD, Hybrid 4WD |
| 2011 | Chevrolet | Silverado 2500 HD | 2WD, 4WD |
| 2011 | Chevrolet | Silverado 3500 HD | 2WD, 4WD |
| 2011 | Chevrolet | Suburban 1500 | 2WD, 4WD |
| 2011 | Chevrolet | Suburban 2500 | 2WD, 4WD |
| 2011 | GMC | Sierra 1500 | 2WD, 4WD, Denali 2WD, Denali AWD, Hybrid 2WD, Hybrid 4WD |
| 2011 | GMC | Sierra 2500 HD | 2WD, 4WD, Denali 2WD, Denali 4WD |
| 2011 | GMC | Sierra 3500 HD | 2WD, 4WD, Denali 2WD, Denali 4WD |
| 2011 | GMC | Yukon XL 1500 | 2WD, 4WD, Denali 2WD, Denali AWD |
| 2011 | GMC | Yukon XL 2500 | 2WD, 4WD |
| 2010 | Chevrolet | Avalanche | 2WD, 4WD |
| 2010 | Chevrolet | Silverado 1500 | 2WD, 4WD, Hybrid 2WD, Hybrid 4WD |
| 2010 | Chevrolet | Silverado 2500 HD | 2WD, 4WD |
| 2010 | Chevrolet | Silverado 3500 HD | 2WD, 4WD |
| 2010 | Chevrolet | Suburban 1500 | 2WD, 4WD |
| 2010 | Chevrolet | Suburban 2500 | 2WD, 4WD |
| 2010 | GMC | Sierra 1500 | 2WD, 4WD, Denali 2WD, Denali AWD, Hybrid 2WD, Hybrid 4WD |
| 2010 | GMC | Sierra 2500 HD | 2WD, 4WD |
| 2010 | GMC | Sierra 3500 HD | 2WD, 4WD |
| 2010 | GMC | Yukon XL 1500 | 2WD, 4WD, Denali 2WD, Denali AWD |
| 2010 | GMC | Yukon XL 2500 | 2WD, 4WD |
Show More