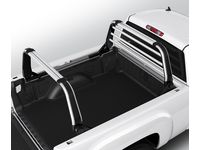 Genuine GM
17802462
Adjustable Truck Bed Divider and Utility Rack
For Chevrolet Silverado 1500 2007-2013; Silverado 2500 HD 2007-2014; Silverado 3500 HD 2007-2014; GMC Sierra 1500 2007-2013; Sierra 2500 HD 2007-2014; Sierra 3500 HD 2007-2014
Adjustable design for enhanced cargo management versatility
Helps keep cargo secure for easy transport
Manufacturer's Notes: This part is discontinued. It is no longer available for purchase.
Product Specifications
Bar Color

Silver

Bar Material

Aluminum

Bar Row Quantity

1

Bar Shape

Oval

Drilling Required

No

Meets or Exceeds Original Equipment Manufacture Specifications

Yes

Mounting Hardware Included

Yes

Universal Or Specific Fit

Specific
Installation Instruction
Warranty
Genuine GM parts are backed by GM's factory warranty which are high-quality vehicle-specific with the right fit the first time.
Part Fitment for 17802462
| Year | Make | Model | Submodel |
| --- | --- | --- | --- |
| 2014 | Chevrolet | Silverado 2500 HD | 2WD, 4WD |
| 2014 | Chevrolet | Silverado 3500 HD | 2WD, 4WD |
| 2014 | GMC | Sierra 2500 HD | 2WD, 4WD, Denali 2WD, Denali 4WD |
| 2014 | GMC | Sierra 3500 HD | 2WD, 4WD, Denali 2WD, Denali 4WD |
| 2013 | Chevrolet | Silverado 1500 | 2WD, 4WD, Hybrid 2WD, Hybrid 4WD |
| 2013 | Chevrolet | Silverado 2500 HD | 2WD, 4WD |
| 2013 | Chevrolet | Silverado 3500 HD | 2WD, 4WD |
| 2013 | GMC | Sierra 1500 | 2WD, 4WD, Denali 2WD, Denali AWD, Hybrid 2WD, Hybrid 4WD |
| 2013 | GMC | Sierra 2500 HD | 2WD, 4WD, Denali 2WD, Denali 4WD |
| 2013 | GMC | Sierra 3500 HD | 2WD, 4WD, Denali 2WD, Denali 4WD |
| 2012 | Chevrolet | Silverado 1500 | 2WD, 4WD, Hybrid 2WD, Hybrid 4WD |
| 2012 | Chevrolet | Silverado 2500 HD | 2WD, 4WD |
| 2012 | Chevrolet | Silverado 3500 HD | 2WD, 4WD |
| 2012 | GMC | Sierra 1500 | 2WD, 4WD, Denali 2WD, Denali AWD, Hybrid 2WD, Hybrid 4WD |
| 2012 | GMC | Sierra 2500 HD | 2WD, 4WD, Denali 2WD, Denali 4WD |
| 2012 | GMC | Sierra 3500 HD | 2WD, 4WD, Denali 2WD, Denali 4WD |
| 2011 | Chevrolet | Silverado 1500 | 2WD, 4WD, Hybrid 2WD, Hybrid 4WD |
| 2011 | Chevrolet | Silverado 2500 HD | 2WD, 4WD |
| 2011 | Chevrolet | Silverado 3500 HD | 2WD, 4WD |
| 2011 | GMC | Sierra 1500 | 2WD, 4WD, Denali 2WD, Denali AWD, Hybrid 2WD, Hybrid 4WD |
| 2011 | GMC | Sierra 2500 HD | 2WD, 4WD, Denali 2WD, Denali 4WD |
| 2011 | GMC | Sierra 3500 HD | 2WD, 4WD, Denali 2WD, Denali 4WD |
| 2010 | Chevrolet | Silverado 1500 | 2WD, 4WD, Hybrid 2WD, Hybrid 4WD |
| 2010 | Chevrolet | Silverado 2500 HD | 2WD, 4WD |
| 2010 | Chevrolet | Silverado 3500 HD | 2WD, 4WD |
| 2010 | GMC | Sierra 1500 | 2WD, 4WD, Denali 2WD, Denali AWD, Hybrid 2WD, Hybrid 4WD |
| 2010 | GMC | Sierra 2500 HD | 2WD, 4WD |
| 2010 | GMC | Sierra 3500 HD | 2WD, 4WD |
| 2009 | Chevrolet | Silverado 1500 | 2WD, 4WD, Hybrid 2WD, Hybrid 4WD |
| 2009 | Chevrolet | Silverado 2500 HD | 2WD, 4WD |
| 2009 | Chevrolet | Silverado 3500 HD | 2WD, 4WD |
| 2009 | GMC | Sierra 1500 | 2WD, 4WD, Denali 2WD, Denali AWD, Hybrid 2WD, Hybrid 4WD |
| 2009 | GMC | Sierra 2500 HD | 2WD, 4WD |
| 2009 | GMC | Sierra 3500 HD | 2WD, 4WD |
| 2008 | Chevrolet | Silverado 1500 | 2WD, 4WD |
| 2008 | Chevrolet | Silverado 2500 HD | 2WD, 4WD |
| 2008 | Chevrolet | Silverado 3500 HD | 2WD, 4WD |
| 2008 | GMC | Sierra 1500 | 2WD, 4WD, Denali 2WD, Denali AWD |
| 2008 | GMC | Sierra 2500 HD | 2WD, 4WD |
| 2008 | GMC | Sierra 3500 HD | 2WD, 4WD |
| 2007 | Chevrolet | Silverado 1500 | New Style 2WD, New Style 4WD |
| 2007 | Chevrolet | Silverado 2500 HD | New Style 2WD, New Style 4WD |
| 2007 | Chevrolet | Silverado 3500 HD | 2WD, 4WD |
| 2007 | GMC | Sierra 1500 | New Style 2WD, New Style 4WD, New Style Denali 2WD, New Style Denali AWD |
| 2007 | GMC | Sierra 2500 HD | New Style 2WD, New Style 4WD |
| 2007 | GMC | Sierra 3500 HD | 2WD, 4WD |
Show More