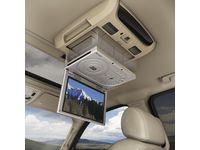 Genuine GM
17802180
RSE - DVD Player - Overhead Portable
For Cadillac Escalade 2007; Escalade ESV 2007; Escalade EXT 2007; Chevrolet Avalanche 2007; Silverado 1500 2007; Silverado 2500 HD 2007; Silverado 3500 HD 2007; Suburban 1500 2007; Suburban 2500 2007; Tahoe 2007; Trailblazer 2005-2007; Trailblazer EXT 2005-2006; GMC Acadia 2007; Envoy 2005-2007; Envoy XL 2005-2006; Envoy XUV 2005; Sierra 1500 2007; Sierra 2500 HD 2007; Sierra 3500 HD 2007; Yukon 2007; Yukon XL 1500 2007; Yukon XL 2500 2007
Flexible for on- and off-the-road use, this Portable DVD Player integrates perfectly into the overhead of your Enclave.Rear-seat passengers will enjoy it en route.Then remove it for use outside your vehicle.Perfect for a family with an active lifestyle.Includes two wireless headphones and a remote control.Must be used with Portable DVD Player Docking Station.
Manufacturer's Notes: This part is discontinued. It is no longer available for purchase.
Product Specifications
Note

Includes Remote Control, Headphones, Case, Batteries, and Quickstart Guide
Warranty
Genuine GM parts are backed by GM's factory warranty which are high-quality vehicle-specific with the right fit the first time.
Part Fitment for 17802180
| Year | Make | Model | Submodel |
| --- | --- | --- | --- |
| 2007 | Cadillac | Escalade | 2WD, AWD |
| 2007 | Cadillac | Escalade ESV | |
| 2007 | Cadillac | Escalade EXT | |
| 2007 | Chevrolet | Avalanche | 2WD, 4WD |
| 2007 | Chevrolet | Silverado 1500 | New Style 2WD, New Style 4WD |
| 2007 | Chevrolet | Silverado 2500 HD | New Style 2WD, New Style 4WD |
| 2007 | Chevrolet | Silverado 3500 HD | 2WD, 4WD |
| 2007 | Chevrolet | Suburban 1500 | 2WD, 4WD |
| 2007 | Chevrolet | Suburban 2500 | 2WD, 4WD |
| 2007 | Chevrolet | Tahoe | 2WD, 4WD |
| 2007 | Chevrolet | Trailblazer | 2WD, 4WD, SS 2WD, SS AWD |
| 2007 | GMC | Acadia | 2WD, AWD |
| 2007 | GMC | Envoy | 2WD, 4WD, Denali 2WD, Denali 4WD |
| 2007 | GMC | Sierra 1500 | New Style 2WD, New Style 4WD, New Style Denali 2WD, New Style Denali AWD |
| 2007 | GMC | Sierra 2500 HD | New Style 2WD, New Style 4WD |
| 2007 | GMC | Sierra 3500 HD | 2WD, 4WD |
| 2007 | GMC | Yukon | 2WD, 4WD, Denali AWD |
| 2007 | GMC | Yukon XL 1500 | 2WD, 4WD, Denali AWD |
| 2007 | GMC | Yukon XL 2500 | 2WD, 4WD |
| 2006 | Chevrolet | Trailblazer | 2WD, 4WD, SS 2WD, SS AWD |
| 2006 | Chevrolet | Trailblazer EXT | 2WD, 4WD |
| 2006 | GMC | Envoy | 2WD, 4WD, Denali 2WD, Denali 4WD |
| 2006 | GMC | Envoy XL | 2WD, 4WD, Denali 2WD, Denali 4WD |
| 2005 | Chevrolet | Trailblazer | 2WD, 4WD |
| 2005 | Chevrolet | Trailblazer EXT | 2WD, 4WD |
| 2005 | GMC | Envoy | 2WD, 4WD |
| 2005 | GMC | Envoy XL | 2WD, 4WD |
| 2005 | GMC | Envoy XUV | 2WD, 4WD |
Show More