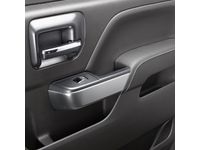 Genuine GM
23147676
Interior Trim Kit in Synthesis
For Chevrolet Silverado 1500 2015-2018; Silverado 2500 2019; Silverado 2500 HD 2015-2018; Silverado 3500 2019; Silverado 3500 HD 2015-2018; GMC Sierra 1500 2015-2018; Sierra 2500 2019; Sierra 2500 HD 2015-2018; Sierra 3500 2019; Sierra 3500 HD 2015-2018
Adds refinement and showcases personal style
Helps give your vehicle a customized appearance
Shows attention to detail
Manufacturer's Notes: This part is discontinued. It is no longer available for purchase.
Product Specifications
Armrest Included

No

Attachment Type

Clips

Colors

Synthesis

Materials

Plastic

Mounting Clips Included

Yes

Universal Or Specific Fit

Specific
Installation Instruction
Warranty
Genuine GM parts are backed by GM's factory warranty which are high-quality vehicle-specific with the right fit the first time.
Part Fitment for 23147676
| Year | Make | Model | Submodel |
| --- | --- | --- | --- |
| 2019 | Chevrolet | Silverado 2500 | |
| 2019 | Chevrolet | Silverado 3500 | |
| 2019 | GMC | Sierra 2500 | |
| 2019 | GMC | Sierra 3500 | |
| 2018 | Chevrolet | Silverado 1500 | 2WD, 4WD, Hybrid 2WD, Hybrid 4WD |
| 2018 | Chevrolet | Silverado 2500 HD | 2WD, 4WD |
| 2018 | Chevrolet | Silverado 3500 HD | 2WD, 4WD |
| 2018 | GMC | Sierra 1500 | 2WD, 4WD, Denali 2WD, Denali 4WD, Hybrid 2WD, Hybrid 4WD |
| 2018 | GMC | Sierra 2500 HD | 2WD, 4WD, Denali 2WD, Denali 4WD |
| 2018 | GMC | Sierra 3500 HD | 2WD, 4WD, Denali 2WD, Denali 4WD |
| 2017 | Chevrolet | Silverado 1500 | 2WD, 4WD, Hybrid 2WD, Hybrid 4WD |
| 2017 | Chevrolet | Silverado 2500 HD | 2WD, 4WD |
| 2017 | Chevrolet | Silverado 3500 HD | 2WD, 4WD |
| 2017 | GMC | Sierra 1500 | 2WD, 4WD, Denali 2WD, Denali 4WD, Hybrid 2WD, Hybrid 4WD |
| 2017 | GMC | Sierra 2500 HD | 2WD, 4WD, Denali 2WD, Denali 4WD |
| 2017 | GMC | Sierra 3500 HD | 2WD, 4WD, Denali 2WD, Denali 4WD |
| 2016 | Chevrolet | Silverado 1500 | 2WD, 4WD, Hybrid 2WD, Hybrid 4WD |
| 2016 | Chevrolet | Silverado 2500 HD | 2WD, 4WD |
| 2016 | Chevrolet | Silverado 3500 HD | 2WD, 4WD |
| 2016 | GMC | Sierra 1500 | 2WD, 4WD, Denali 2WD, Denali 4WD, Hybrid 2WD, Hybrid 4WD |
| 2016 | GMC | Sierra 2500 HD | 2WD, 4WD, Denali 2WD, Denali 4WD |
| 2016 | GMC | Sierra 3500 HD | 2WD, 4WD, Denali 2WD, Denali 4WD |
| 2015 | Chevrolet | Silverado 1500 | 2WD, 4WD |
| 2015 | Chevrolet | Silverado 2500 HD | 2WD, 4WD |
| 2015 | Chevrolet | Silverado 3500 HD | 2WD, 4WD |
| 2015 | GMC | Sierra 1500 | 2WD, 4WD, Denali 2WD, Denali 4WD |
| 2015 | GMC | Sierra 2500 HD | 2WD, 4WD, Denali 2WD, Denali 4WD |
| 2015 | GMC | Sierra 3500 HD | 2WD, 4WD, Denali 2WD, Denali 4WD |
Show More