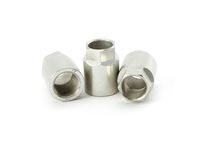 Genuine GM
17800699
Tire Pressure Indicator Sensor Nut
For Buick Enclave 2008-2015; LaCrosse 2008-2009; Lucerne 2008-2011; Rainier 2007; Cadillac ATS 2014-2015; CTS 2004-2015; DTS 2006-2011; Escalade 2007-2011; Escalade ESV 2007-2011; Escalade EXT 2007-2011; SRX 2006-2009; STS 2005-2010; XLR 2006-2009; Chevrolet Avalanche 2007-2011; Corvette 2005-2013; Equinox 2007-2012; HHR 2008-2011; Impala 2008-2016; Malibu 2008-2012; Monte Carlo 2006-2007; Silverado 1500 2007-2011; Suburban 1500 2007-2011; Suburban 2500 2007, 2011; Tahoe 2008-2011; Trailblazer 2007-2008; Traverse 2009-2015; GMC Acadia 2007-2015; Envoy 2007-2008; Sierra 1500 2008-2011; Terrain 2010-2012; Yukon 2007-2011; Yukon XL 1500 2007-2011; Yukon XL 2500 2007
Hold the tire pressure monitor in place behind the valve stem with the GM Accessories Tire Pressure Indicator Sensor Nut. This GM accessory can help to personalize, customize, or optimize the capability of your vehicle for your lifestyle and use.
Manufacturer's Notes: This part is discontinued. It is no longer available for purchase.
Product Specifications
Color

Silver

Depth

0.55

Gasket Or Seal Included

No

Material

Aluminum

Tapered

Yes

Thickness

0.088

Thread Diameter

0.016

Thread Type

Medium
Installation Instruction
Warranty
Genuine GM parts are backed by GM's factory warranty which are high-quality vehicle-specific with the right fit the first time.
Part Fitment for 17800699
| Year | Make | Model | Submodel |
| --- | --- | --- | --- |
| 2016 | Chevrolet | Impala | Limited |
| 2015 | Buick | Enclave | 2WD, AWD |
| 2015 | Cadillac | ATS | Coupe, Sedan |
| 2015 | Cadillac | CTS | Sedan, V-Series Coupe |
| 2015 | Chevrolet | Impala | Limited |
| 2015 | Chevrolet | Traverse | 2WD, AWD |
| 2015 | GMC | Acadia | 2WD, AWD |
| 2014 | Buick | Enclave | 2WD, AWD |
| 2014 | Cadillac | ATS | |
| 2014 | Cadillac | CTS | Coupe, Sedan, V-Series Sedan, Wagon |
| 2014 | Chevrolet | Impala | Limited |
| 2014 | Chevrolet | Traverse | 2WD, AWD |
| 2014 | GMC | Acadia | 2WD, AWD |
| 2013 | Buick | Enclave | 2WD, AWD |
| 2013 | Cadillac | CTS | Coupe, Sedan, Wagon |
| 2013 | Chevrolet | Corvette | |
| 2013 | Chevrolet | Impala | |
| 2013 | Chevrolet | Traverse | 2WD, AWD |
| 2013 | GMC | Acadia | 2WD, AWD |
| 2012 | Buick | Enclave | 2WD, AWD |
| 2012 | Cadillac | CTS | Coupe, Sedan, Wagon |
| 2012 | Chevrolet | Corvette | |
| 2012 | Chevrolet | Equinox | |
| 2012 | Chevrolet | Impala | |
| 2012 | Chevrolet | Malibu | |
| 2012 | Chevrolet | Traverse | 2WD, AWD |
| 2012 | GMC | Acadia | 2WD, AWD |
| 2012 | GMC | Terrain | |
| 2011 | Buick | Enclave | 2WD, AWD |
| 2011 | Buick | Lucerne | |
| 2011 | Cadillac | CTS | Coupe, Sedan, Wagon |
| 2011 | Cadillac | DTS | |
| 2011 | Cadillac | Escalade | 2WD, AWD |
| 2011 | Cadillac | Escalade ESV | 2WD, AWD |
| 2011 | Cadillac | Escalade EXT | |
| 2011 | Chevrolet | Avalanche | 2WD, 4WD |
| 2011 | Chevrolet | Corvette | |
| 2011 | Chevrolet | Equinox | |
| 2011 | Chevrolet | HHR | |
| 2011 | Chevrolet | Impala | |
| 2011 | Chevrolet | Malibu | |
| 2011 | Chevrolet | Silverado 1500 | 2WD, 4WD, Hybrid 2WD, Hybrid 4WD |
| 2011 | Chevrolet | Suburban 1500 | 2WD, 4WD |
| 2011 | Chevrolet | Suburban 2500 | 2WD, 4WD |
| 2011 | Chevrolet | Tahoe | 2WD, 4WD, Hybrid 2WD, Hybrid 4WD |
| 2011 | Chevrolet | Traverse | 2WD, AWD |
| 2011 | GMC | Acadia | 2WD, AWD |
| 2011 | GMC | Sierra 1500 | 2WD, 4WD, Denali 2WD, Denali AWD, Hybrid 2WD, Hybrid 4WD |
| 2011 | GMC | Terrain | |
| 2011 | GMC | Yukon | 2WD, 4WD, Denali 2WD, Denali AWD, Denali Hybrid 2WD, Denali Hybrid 4WD, Hybrid 2WD, Hybrid 4WD |
Show More