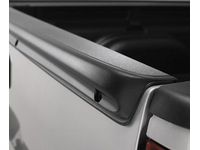 Genuine GM
12495717
Tailgate Protector,Color:Black;
For Chevrolet Silverado 1500 2001-2007; Silverado 1500 HD 2001-2003, 2005-2007; Silverado 2500 2001-2004; Silverado 2500 HD 2001-2007; Silverado 3500 2001-2007; GMC Sierra 1500 2001-2007; Sierra 1500 HD 2001-2003, 2005-2007; Sierra 2500 2001-2004; Sierra 2500 HD 2001-2007; Sierra 3500 2001-2007
Protect the top of the tailgate on your Vehicle from damage with the rugged, resilient molding of this Tailgate Protector, custom-designed and engineered to fit your truck.
Manufacturer's Notes: This part is discontinued. It is no longer available for purchase.
Product Specifications
Warranty
Genuine GM parts are backed by GM's factory warranty which are high-quality vehicle-specific with the right fit the first time.
Part Fitment for 12495717
| Year | Make | Model | Submodel |
| --- | --- | --- | --- |
| 2007 | Chevrolet | Silverado 1500 | Classic 2WD, Classic 4WD, Classic Hybrid 2WD, Classic Hybrid 4WD, Classic SS |
| 2007 | Chevrolet | Silverado 1500 HD | 2WD, 4WD |
| 2007 | Chevrolet | Silverado 2500 HD | Classic 2WD, Classic 4WD |
| 2007 | Chevrolet | Silverado 3500 | 2WD, 4WD |
| 2007 | GMC | Sierra 1500 | Classic 2WD, Classic 4WD, Classic Denali AWD, Classic Hybrid 2WD, Classic Hybrid 4WD |
| 2007 | GMC | Sierra 1500 HD | 2WD, 4WD |
| 2007 | GMC | Sierra 2500 HD | Classic 2WD, Classic 4WD |
| 2007 | GMC | Sierra 3500 | 2WD, 4WD |
| 2006 | Chevrolet | Silverado 1500 | 2WD, 4WD, Hybrid 2WD, Hybrid 4WD, SS |
| 2006 | Chevrolet | Silverado 1500 HD | 2WD, 4WD |
| 2006 | Chevrolet | Silverado 2500 HD | 2WD, 4WD |
| 2006 | Chevrolet | Silverado 3500 | 2WD, 4WD |
| 2006 | GMC | Sierra 1500 | 2WD, 4WD, Denali AWD, Hybrid 2WD, Hybrid 4WD |
| 2006 | GMC | Sierra 1500 HD | 2WD, 4WD |
| 2006 | GMC | Sierra 2500 HD | 2WD, 4WD |
| 2006 | GMC | Sierra 3500 | 2WD, 4WD |
| 2005 | Chevrolet | Silverado 1500 | 2WD, 4WD, SS 4WD |
| 2005 | Chevrolet | Silverado 1500 HD | 2WD, 4WD |
| 2005 | Chevrolet | Silverado 2500 HD | 2WD, 4WD |
| 2005 | Chevrolet | Silverado 3500 | 2WD, 4WD |
| 2005 | GMC | Sierra 1500 | 2WD, 4WD, Hybrid 2WD, Hybrid 4WD |
| 2005 | GMC | Sierra 1500 HD | 2WD, 4WD |
| 2005 | GMC | Sierra 2500 HD | 2WD, 4WD |
| 2005 | GMC | Sierra 3500 | 2WD, 4WD |
| 2004 | Chevrolet | Silverado 1500 | 2WD, 4WD, SS 4WD |
| 2004 | Chevrolet | Silverado 2500 | 2WD, 4WD |
| 2004 | Chevrolet | Silverado 2500 HD | 2WD, 4WD |
| 2004 | Chevrolet | Silverado 3500 | 2WD, 4WD |
| 2004 | GMC | Sierra 1500 | 2WD, 4WD |
| 2004 | GMC | Sierra 2500 | 2WD, 4WD |
| 2004 | GMC | Sierra 2500 HD | 2WD, 4WD |
| 2004 | GMC | Sierra 3500 | 2WD, 4WD |
| 2003 | Chevrolet | Silverado 1500 | 2WD, 4WD, SS 4WD |
| 2003 | Chevrolet | Silverado 1500 HD | 2WD, 4WD |
| 2003 | Chevrolet | Silverado 2500 | 2WD, 4WD |
| 2003 | Chevrolet | Silverado 2500 HD | 2WD, 4WD |
| 2003 | Chevrolet | Silverado 3500 | 2WD, 4WD |
| 2003 | GMC | Sierra 1500 | 2WD, 4WD |
| 2003 | GMC | Sierra 1500 HD | 2WD, 4WD |
| 2003 | GMC | Sierra 2500 | 2WD, 4WD |
| 2003 | GMC | Sierra 2500 HD | 2WD, 4WD |
| 2003 | GMC | Sierra 3500 | 2WD, 4WD |
| 2002 | Chevrolet | Silverado 1500 | 2WD, 4WD |
| 2002 | Chevrolet | Silverado 1500 HD | |
| 2002 | Chevrolet | Silverado 2500 | 2WD, 4WD |
| 2002 | Chevrolet | Silverado 2500 HD | 2WD, 4WD |
| 2002 | Chevrolet | Silverado 3500 | 2WD, 4WD |
| 2002 | GMC | Sierra 1500 | 2WD, 4WD |
| 2002 | GMC | Sierra 1500 HD | |
| 2002 | GMC | Sierra 2500 | 2WD, 4WD |
Show More