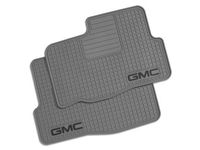 Genuine GM
12495597
Floor Mats - Premium All Weather,Front,Note:Pewter with GMC Logo;
For GMC Sierra 1500 2001-2007; Sierra 1500 HD 2001-2003, 2005-2007; Sierra 2500 2001-2004; Sierra 2500 HD 2001-2007; Sierra 3500 2001-2007; Yukon 2006; Yukon XL 1500 2006; Yukon XL 2500 2006
These Premium All Weather Floor Mat fit the front floor of your Sierra Classic perfectly as they help protect the interior from mud, snow, dirt and debris.
Manufacturer's Notes: This part is discontinued. It is no longer available for purchase.
Product Specifications
Installation Instruction
Warranty
Genuine GM parts are backed by GM's factory warranty which are high-quality vehicle-specific with the right fit the first time.
Part Fitment for 12495597
| Year | Make | Model | Submodel |
| --- | --- | --- | --- |
| 2007 | GMC | Sierra 1500 | Classic 2WD, Classic 4WD, Classic Denali AWD, Classic Hybrid 2WD, Classic Hybrid 4WD |
| 2007 | GMC | Sierra 1500 HD | 2WD, 4WD |
| 2007 | GMC | Sierra 2500 HD | Classic 2WD, Classic 4WD |
| 2007 | GMC | Sierra 3500 | 2WD, 4WD |
| 2006 | GMC | Sierra 1500 | 2WD, 4WD, Denali AWD, Hybrid 2WD, Hybrid 4WD |
| 2006 | GMC | Sierra 1500 HD | 2WD, 4WD |
| 2006 | GMC | Sierra 2500 HD | 2WD, 4WD |
| 2006 | GMC | Sierra 3500 | 2WD, 4WD |
| 2006 | GMC | Yukon | 2WD, 4WD, Denali AWD |
| 2006 | GMC | Yukon XL 1500 | 2WD, 4WD, Denali AWD |
| 2006 | GMC | Yukon XL 2500 | 2WD, 4WD |
| 2005 | GMC | Sierra 1500 | 2WD, 4WD, Hybrid 2WD, Hybrid 4WD |
| 2005 | GMC | Sierra 1500 HD | 2WD, 4WD |
| 2005 | GMC | Sierra 2500 HD | 2WD, 4WD |
| 2005 | GMC | Sierra 3500 | 2WD, 4WD |
| 2004 | GMC | Sierra 1500 | 2WD, 4WD |
| 2004 | GMC | Sierra 2500 | 2WD, 4WD |
| 2004 | GMC | Sierra 2500 HD | 2WD, 4WD |
| 2004 | GMC | Sierra 3500 | 2WD, 4WD |
| 2003 | GMC | Sierra 1500 | 2WD, 4WD |
| 2003 | GMC | Sierra 1500 HD | 2WD, 4WD |
| 2003 | GMC | Sierra 2500 | 2WD, 4WD |
| 2003 | GMC | Sierra 2500 HD | 2WD, 4WD |
| 2003 | GMC | Sierra 3500 | 2WD, 4WD |
| 2002 | GMC | Sierra 1500 | 2WD, 4WD |
| 2002 | GMC | Sierra 1500 HD | |
| 2002 | GMC | Sierra 2500 | 2WD, 4WD |
| 2002 | GMC | Sierra 2500 HD | 2WD, 4WD |
| 2002 | GMC | Sierra 3500 | 2WD, 4WD |
| 2001 | GMC | Sierra 1500 | 2WD, 4WD |
| 2001 | GMC | Sierra 1500 HD | |
| 2001 | GMC | Sierra 2500 | 2WD, 4WD |
| 2001 | GMC | Sierra 2500 HD | 2WD, 4WD |
| 2001 | GMC | Sierra 3500 | 2WD, 4WD |
Show More