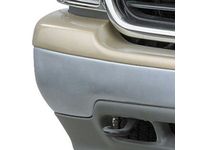 Genuine GM
12496037
Tow Hooks,Note:For Use on 2500 Heavy Duty Models,Black;
For Chevrolet Silverado 1500 HD 2001-2003; Silverado 2500 2001-2004; Silverado 2500 HD 2001-2007; Suburban 1500 2006; Suburban 2500 2006; GMC Sierra 1500 HD 2001-2003; Sierra 2500 2001-2004; Sierra 2500 HD 2001-2007; Yukon XL 1500 2006; Yukon XL 2500 2006
Add style as well as functionality to your Vehicle Classic with these attractive, fully integrated black Tow Hooks. To avoid the risk of injury, never use recovery hooks to tow the Vehicle . For more information, see the 'Recovery Hooks' section of your GM Owner's Manual.
Manufacturer's Notes: This part is discontinued. It is no longer available for purchase.
Product Specifications
Note

For Use on 2500 Heavy Duty Models, Black
Warranty
Genuine GM parts are backed by GM's factory warranty which are high-quality vehicle-specific with the right fit the first time.
Part Fitment for 12496037
| Year | Make | Model | Submodel |
| --- | --- | --- | --- |
| 2007 | Chevrolet | Silverado 2500 HD | Classic 2WD, Classic 4WD |
| 2007 | GMC | Sierra 2500 HD | Classic 2WD, Classic 4WD |
| 2006 | Chevrolet | Silverado 2500 HD | 2WD, 4WD |
| 2006 | Chevrolet | Suburban 1500 | 2WD, 4WD |
| 2006 | Chevrolet | Suburban 2500 | 2WD, 4WD |
| 2006 | GMC | Sierra 2500 HD | 2WD, 4WD |
| 2006 | GMC | Yukon XL 1500 | 2WD, 4WD, Denali AWD |
| 2006 | GMC | Yukon XL 2500 | 2WD, 4WD |
| 2005 | Chevrolet | Silverado 2500 HD | 2WD, 4WD |
| 2005 | GMC | Sierra 2500 HD | 2WD, 4WD |
| 2004 | Chevrolet | Silverado 2500 | 2WD, 4WD |
| 2004 | Chevrolet | Silverado 2500 HD | 2WD, 4WD |
| 2004 | GMC | Sierra 2500 | 2WD, 4WD |
| 2004 | GMC | Sierra 2500 HD | 2WD, 4WD |
| 2003 | Chevrolet | Silverado 1500 HD | 2WD, 4WD |
| 2003 | Chevrolet | Silverado 2500 | 2WD, 4WD |
| 2003 | Chevrolet | Silverado 2500 HD | 2WD, 4WD |
| 2003 | GMC | Sierra 1500 HD | 2WD, 4WD |
| 2003 | GMC | Sierra 2500 | 2WD, 4WD |
| 2003 | GMC | Sierra 2500 HD | 2WD, 4WD |
| 2002 | Chevrolet | Silverado 1500 HD | |
| 2002 | Chevrolet | Silverado 2500 | 2WD, 4WD |
| 2002 | Chevrolet | Silverado 2500 HD | 2WD, 4WD |
| 2002 | GMC | Sierra 1500 HD | |
| 2002 | GMC | Sierra 2500 | 2WD, 4WD |
| 2002 | GMC | Sierra 2500 HD | 2WD, 4WD |
| 2001 | Chevrolet | Silverado 1500 HD | |
| 2001 | Chevrolet | Silverado 2500 | 2WD, 4WD |
| 2001 | Chevrolet | Silverado 2500 HD | 2WD, 4WD |
| 2001 | GMC | Sierra 1500 HD | |
| 2001 | GMC | Sierra 2500 | 2WD, 4WD |
| 2001 | GMC | Sierra 2500 HD | 2WD, 4WD |
Show More