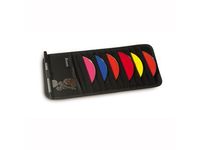 Genuine GM
12495014
CD/DVD Holder,Note:Holds 12 CDs/DVDs;
For Buick LaCrosse 2005-2007; Rendezvous 2002-2007; Terraza 2007; Cadillac CTS 2003-2007; SRX 2004-2007; STS 2005-2007; XLR 2006-2007; Chevrolet Cobalt 2006-2007; Colorado 2004-2007; Corvette 2001-2007; Equinox 2006-2007; Express 1500 2001-2007; Express 2500 2001-2007; Express 3500 2001-2007; HHR 2006-2007; Impala 2001-2007; Malibu 2001-2007; Monte Carlo 2001-2007; Trailblazer 2002-2007; Trailblazer EXT 2002-2006; Uplander 2006-2007; GMC Canyon 2004-2007; Envoy 2002-2007; Envoy XL 2002-2006; Envoy XUV 2004-2005; Savana 1500 2001-2007; Savana 2500 2001-2007; Savana 3500 2001-2007
This Visor CD-DVD Holder slides over your vehicle's existing visor to provide storage for up to 12 CDs or DVDs, keeping them within easy reach.It does not interfere with lighted vanity mirrors.
Manufacturer's Notes: This part is discontinued. It is no longer available for purchase.
Product Specifications
Warranty
Genuine GM parts are backed by GM's factory warranty which are high-quality vehicle-specific with the right fit the first time.
Part Fitment for 12495014
| Year | Make | Model | Submodel |
| --- | --- | --- | --- |
| 2007 | Buick | LaCrosse | |
| 2007 | Buick | Rendezvous | |
| 2007 | Buick | Terraza | |
| 2007 | Cadillac | CTS | |
| 2007 | Cadillac | SRX | |
| 2007 | Cadillac | STS | |
| 2007 | Cadillac | XLR | |
| 2007 | Chevrolet | Cobalt | |
| 2007 | Chevrolet | Colorado | 2WD, 4WD |
| 2007 | Chevrolet | Corvette | |
| 2007 | Chevrolet | Equinox | |
| 2007 | Chevrolet | Express 1500 | 2WD, AWD |
| 2007 | Chevrolet | Express 2500 | |
| 2007 | Chevrolet | Express 3500 | |
| 2007 | Chevrolet | HHR | |
| 2007 | Chevrolet | Impala | |
| 2007 | Chevrolet | Malibu | |
| 2007 | Chevrolet | Monte Carlo | |
| 2007 | Chevrolet | Trailblazer | 2WD, 4WD, SS 2WD, SS AWD |
| 2007 | Chevrolet | Uplander | |
| 2007 | GMC | Canyon | 2WD, 4WD |
| 2007 | GMC | Envoy | 2WD, 4WD, Denali 2WD, Denali 4WD |
| 2007 | GMC | Savana 1500 | 2WD, AWD |
| 2007 | GMC | Savana 2500 | |
| 2007 | GMC | Savana 3500 | |
| 2006 | Buick | LaCrosse | |
| 2006 | Buick | Rendezvous | |
| 2006 | Cadillac | CTS | |
| 2006 | Cadillac | SRX | |
| 2006 | Cadillac | STS | |
| 2006 | Cadillac | XLR | |
| 2006 | Chevrolet | Cobalt | |
| 2006 | Chevrolet | Colorado | 2WD, 4WD |
| 2006 | Chevrolet | Corvette | |
| 2006 | Chevrolet | Equinox | |
| 2006 | Chevrolet | Express 1500 | 2WD, AWD |
| 2006 | Chevrolet | Express 2500 | |
| 2006 | Chevrolet | Express 3500 | |
| 2006 | Chevrolet | HHR | |
| 2006 | Chevrolet | Impala | |
| 2006 | Chevrolet | Malibu | |
| 2006 | Chevrolet | Monte Carlo | |
| 2006 | Chevrolet | Trailblazer | 2WD, 4WD, SS 2WD, SS AWD |
| 2006 | Chevrolet | Trailblazer EXT | 2WD, 4WD |
| 2006 | Chevrolet | Uplander | 2WD, AWD |
| 2006 | GMC | Canyon | 2WD, 4WD |
| 2006 | GMC | Envoy | 2WD, 4WD, Denali 2WD, Denali 4WD |
| 2006 | GMC | Envoy XL | 2WD, 4WD, Denali 2WD, Denali 4WD |
| 2006 | GMC | Savana 1500 | 2WD, AWD |
| 2006 | GMC | Savana 2500 | |
Show More