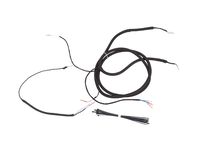 Genuine GM
23387133
Exterior Camper Mirror Wiring Harness
For Chevrolet Silverado 1500 2015-2018; Silverado 2500 HD 2015-2018; Silverado 3500 HD 2015-2018; GMC Sierra 1500 2015-2018; Sierra 2500 HD 2015-2018; Sierra 3500 HD 2015-2018
Meets or exceeds original equipment manufacturer specifications
Supports the function of power mirrors
Support the function of power mirrors with the GMC Accessories exterior camper mirror wiring harness. This mirror wiring harness connects your power mirror to the control switch for operation. This GMC accessory can help to personalize, customize, or optimize the capability of your vehicle for your lifestyle and use.
Product Specifications
Connector Quantity

0

Terminal Type

Blade

Wire Color

Multiple

Connector Color

Has No Connectors

Wire Quantity

7

Terminal Gender

Male

Terminal Quantity

14

Length

67.1295275591 in

Meets or Exceeds Original Equipment Manufacture Specifications

Yes

Packaging Quantity

1

Packaging Height

12.88

Packaging Length

23.38

Packaging Width

19.75

Packaging Weight

0.06
Installation Instruction
Part Fitment for 23387133
| Year | Make | Model | Submodel |
| --- | --- | --- | --- |
| 2018 | Chevrolet | Silverado 1500 | 2WD, 4WD, Hybrid 2WD, Hybrid 4WD |
| 2018 | Chevrolet | Silverado 2500 HD | 2WD, 4WD |
| 2018 | Chevrolet | Silverado 3500 HD | 2WD, 4WD |
| 2018 | GMC | Sierra 1500 | 2WD, 4WD, Denali 2WD, Denali 4WD, Hybrid 2WD, Hybrid 4WD |
| 2018 | GMC | Sierra 2500 HD | 2WD, 4WD, Denali 2WD, Denali 4WD |
| 2018 | GMC | Sierra 3500 HD | 2WD, 4WD, Denali 2WD, Denali 4WD |
| 2017 | Chevrolet | Silverado 1500 | 2WD, 4WD, Hybrid 2WD, Hybrid 4WD |
| 2017 | Chevrolet | Silverado 2500 HD | 2WD, 4WD |
| 2017 | Chevrolet | Silverado 3500 HD | 2WD, 4WD |
| 2017 | GMC | Sierra 1500 | 2WD, 4WD, Denali 2WD, Denali 4WD, Hybrid 2WD, Hybrid 4WD |
| 2017 | GMC | Sierra 2500 HD | 2WD, 4WD, Denali 2WD, Denali 4WD |
| 2017 | GMC | Sierra 3500 HD | 2WD, 4WD, Denali 2WD, Denali 4WD |
| 2016 | Chevrolet | Silverado 1500 | 2WD, 4WD, Hybrid 2WD, Hybrid 4WD |
| 2016 | Chevrolet | Silverado 2500 HD | 2WD, 4WD |
| 2016 | Chevrolet | Silverado 3500 HD | 2WD, 4WD |
| 2016 | GMC | Sierra 1500 | 2WD, 4WD, Denali 2WD, Denali 4WD, Hybrid 2WD, Hybrid 4WD |
| 2016 | GMC | Sierra 2500 HD | 2WD, 4WD, Denali 2WD, Denali 4WD |
| 2016 | GMC | Sierra 3500 HD | 2WD, 4WD, Denali 2WD, Denali 4WD |
| 2015 | Chevrolet | Silverado 1500 | 2WD, 4WD |
| 2015 | Chevrolet | Silverado 2500 HD | 2WD, 4WD |
| 2015 | Chevrolet | Silverado 3500 HD | 2WD, 4WD |
| 2015 | GMC | Sierra 1500 | 2WD, 4WD, Denali 2WD, Denali 4WD |
| 2015 | GMC | Sierra 2500 HD | 2WD, 4WD, Denali 2WD, Denali 4WD |
| 2015 | GMC | Sierra 3500 HD | 2WD, 4WD, Denali 2WD, Denali 4WD |
Show More