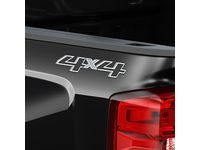 Genuine GM
23490448
Pickup Box Decal Package in Silver and Charcoal with 4x4 Logo
For Chevrolet Silverado 1500 2016-2018; Silverado 2500 HD 2016-2018; Silverado 3500 HD 2016-2018; GMC Sierra 1500 2014-2018; Sierra 2500 HD 2015-2018; Sierra 3500 HD 2015-2018
Enhances the appearance of your vehicle
Adds a level of customization
Made to withstand weather elements and still be attached to your vehicle
Enhance the exterior appearance of your vehicle with a GMC Accessories Decal Package featuring the 4X4 logo. These premium decals are made of vinyl and feature durable adhesive backing.
Product Specifications
Length

11.93 in

Color

Silver and Charcoal on Chrome

Configuration

One Piece

Material

Vinyl

Attachment Type

Adhesive Backing

Overall Width

11.93

Shape

4X4

Width

2 in

Packaging Quantity

1

Packaging Height

4.25

Packaging Length

12.75

Packaging Width

4.25

Packaging Weight

0.03
Installation Instruction
Warranty
Genuine GM parts are backed by GM's factory warranty which are high-quality vehicle-specific with the right fit the first time.
Part Fitment for 23490448
| Year | Make | Model | Submodel |
| --- | --- | --- | --- |
| 2018 | Chevrolet | Silverado 1500 | 2WD, 4WD, Hybrid 2WD, Hybrid 4WD |
| 2018 | Chevrolet | Silverado 2500 HD | 2WD, 4WD |
| 2018 | Chevrolet | Silverado 3500 HD | 2WD, 4WD |
| 2018 | GMC | Sierra 1500 | 2WD, 4WD, Denali 2WD, Denali 4WD, Hybrid 2WD, Hybrid 4WD |
| 2018 | GMC | Sierra 2500 HD | 2WD, 4WD, Denali 2WD, Denali 4WD |
| 2018 | GMC | Sierra 3500 HD | 2WD, 4WD, Denali 2WD, Denali 4WD |
| 2017 | Chevrolet | Silverado 1500 | 2WD, 4WD, Hybrid 2WD, Hybrid 4WD |
| 2017 | Chevrolet | Silverado 2500 HD | 2WD, 4WD |
| 2017 | Chevrolet | Silverado 3500 HD | 2WD, 4WD |
| 2017 | GMC | Sierra 1500 | 2WD, 4WD, Denali 2WD, Denali 4WD, Hybrid 2WD, Hybrid 4WD |
| 2017 | GMC | Sierra 2500 HD | 2WD, 4WD, Denali 2WD, Denali 4WD |
| 2017 | GMC | Sierra 3500 HD | 2WD, 4WD, Denali 2WD, Denali 4WD |
| 2016 | Chevrolet | Silverado 1500 | 2WD, 4WD, Hybrid 2WD, Hybrid 4WD |
| 2016 | Chevrolet | Silverado 2500 HD | 2WD, 4WD |
| 2016 | Chevrolet | Silverado 3500 HD | 2WD, 4WD |
| 2016 | GMC | Sierra 1500 | 2WD, 4WD, Denali 2WD, Denali 4WD, Hybrid 2WD, Hybrid 4WD |
| 2016 | GMC | Sierra 2500 HD | 2WD, 4WD, Denali 2WD, Denali 4WD |
| 2016 | GMC | Sierra 3500 HD | 2WD, 4WD, Denali 2WD, Denali 4WD |
| 2015 | GMC | Sierra 1500 | 2WD, 4WD, Denali 2WD, Denali 4WD |
| 2015 | GMC | Sierra 2500 HD | 2WD, 4WD, Denali 2WD, Denali 4WD |
| 2015 | GMC | Sierra 3500 HD | 2WD, 4WD, Denali 2WD, Denali 4WD |
| 2014 | GMC | Sierra 1500 | 2WD, 4WD, Denali 2WD, Denali 4WD |
Show More