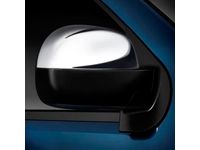 Genuine GM
17800560
Outside Rearview Mirror Covers in Chrome
For Chevrolet Avalanche 2007-2013; Silverado 1500 2007-2013; Silverado 2500 HD 2007-2013; Silverado 3500 HD 2007-2013; Suburban 1500 2007-2013; Suburban 2500 2007-2013; Tahoe 2007-2013; GMC Sierra 1500 2007-2012; Sierra 2500 HD 2007-2012; Sierra 3500 HD 2007-2012; Yukon 2007-2012; Yukon XL 1500 2007-2012; Yukon XL 2500 2007-2012
Comes in a set of two, for both your driver and front passenger side door mirrors
Enhances the exterior appearance of your vehicle
Helps give your vehicle a customized look
Manufacturer's Notes: This part is discontinued. It is no longer available for purchase.
Product Specifications
Attachment Type

Clip-On

Color

Bright Chrome

Illuminated

No

Length

10.5

Material

Plastic

Weather Resistant

Yes

Width

4.2
Installation Instruction
Warranty
Genuine GM parts are backed by GM's factory warranty which are high-quality vehicle-specific with the right fit the first time.
Part Fitment for 17800560
| Year | Make | Model | Submodel |
| --- | --- | --- | --- |
| 2013 | Chevrolet | Avalanche | 2WD, 4WD |
| 2013 | Chevrolet | Silverado 1500 | 2WD, 4WD, Hybrid 2WD, Hybrid 4WD |
| 2013 | Chevrolet | Silverado 2500 HD | 2WD, 4WD |
| 2013 | Chevrolet | Silverado 3500 HD | 2WD, 4WD |
| 2013 | Chevrolet | Suburban 1500 | 2WD, 4WD |
| 2013 | Chevrolet | Suburban 2500 | 2WD, 4WD |
| 2013 | Chevrolet | Tahoe | 2WD, 4WD, Hybrid 2WD, Hybrid 4WD |
| 2012 | Chevrolet | Avalanche | 2WD, 4WD |
| 2012 | Chevrolet | Silverado 1500 | 2WD, 4WD, Hybrid 2WD, Hybrid 4WD |
| 2012 | Chevrolet | Silverado 2500 HD | 2WD, 4WD |
| 2012 | Chevrolet | Silverado 3500 HD | 2WD, 4WD |
| 2012 | Chevrolet | Suburban 1500 | 2WD, 4WD |
| 2012 | Chevrolet | Suburban 2500 | 2WD, 4WD |
| 2012 | Chevrolet | Tahoe | 2WD, 4WD, Hybrid 2WD, Hybrid 4WD |
| 2012 | GMC | Sierra 1500 | 2WD, 4WD, Denali 2WD, Denali AWD, Hybrid 2WD, Hybrid 4WD |
| 2012 | GMC | Sierra 2500 HD | 2WD, 4WD, Denali 2WD, Denali 4WD |
| 2012 | GMC | Sierra 3500 HD | 2WD, 4WD, Denali 2WD, Denali 4WD |
| 2012 | GMC | Yukon | 2WD, 4WD, Denali 2WD, Denali AWD, Denali Hybrid 2WD, Denali Hybrid 4WD, Hybrid 2WD, Hybrid 4WD |
| 2012 | GMC | Yukon XL 1500 | 2WD, 4WD, Denali 2WD, Denali AWD |
| 2012 | GMC | Yukon XL 2500 | 2WD, 4WD |
| 2011 | Chevrolet | Avalanche | 2WD, 4WD |
| 2011 | Chevrolet | Silverado 1500 | 2WD, 4WD, Hybrid 2WD, Hybrid 4WD |
| 2011 | Chevrolet | Silverado 2500 HD | 2WD, 4WD |
| 2011 | Chevrolet | Silverado 3500 HD | 2WD, 4WD |
| 2011 | Chevrolet | Suburban 1500 | 2WD, 4WD |
| 2011 | Chevrolet | Suburban 2500 | 2WD, 4WD |
| 2011 | Chevrolet | Tahoe | 2WD, 4WD, Hybrid 2WD, Hybrid 4WD |
| 2011 | GMC | Sierra 1500 | 2WD, 4WD, Denali 2WD, Denali AWD, Hybrid 2WD, Hybrid 4WD |
| 2011 | GMC | Sierra 2500 HD | 2WD, 4WD, Denali 2WD, Denali 4WD |
| 2011 | GMC | Sierra 3500 HD | 2WD, 4WD, Denali 2WD, Denali 4WD |
| 2011 | GMC | Yukon | 2WD, 4WD, Denali 2WD, Denali AWD, Denali Hybrid 2WD, Denali Hybrid 4WD, Hybrid 2WD, Hybrid 4WD |
| 2011 | GMC | Yukon XL 1500 | 2WD, 4WD, Denali 2WD, Denali AWD |
| 2011 | GMC | Yukon XL 2500 | 2WD, 4WD |
| 2010 | Chevrolet | Avalanche | 2WD, 4WD |
| 2010 | Chevrolet | Silverado 1500 | 2WD, 4WD, Hybrid 2WD, Hybrid 4WD |
| 2010 | Chevrolet | Silverado 2500 HD | 2WD, 4WD |
| 2010 | Chevrolet | Silverado 3500 HD | 2WD, 4WD |
| 2010 | Chevrolet | Suburban 1500 | 2WD, 4WD |
| 2010 | Chevrolet | Suburban 2500 | 2WD, 4WD |
| 2010 | Chevrolet | Tahoe | 2WD, 4WD, Hybrid 2WD, Hybrid 4WD |
| 2010 | GMC | Sierra 1500 | 2WD, 4WD, Denali 2WD, Denali AWD, Hybrid 2WD, Hybrid 4WD |
| 2010 | GMC | Sierra 2500 HD | 2WD, 4WD |
| 2010 | GMC | Sierra 3500 HD | 2WD, 4WD |
| 2010 | GMC | Yukon | 2WD, 4WD, Denali 2WD, Denali AWD, Denali Hybrid 2WD, Denali Hybrid 4WD, Hybrid 2WD, Hybrid 4WD |
| 2010 | GMC | Yukon XL 1500 | 2WD, 4WD, Denali 2WD, Denali AWD |
| 2010 | GMC | Yukon XL 2500 | 2WD, 4WD |
| 2009 | Chevrolet | Avalanche | 2WD, 4WD |
| 2009 | Chevrolet | Silverado 1500 | 2WD, 4WD, Hybrid 2WD, Hybrid 4WD |
| 2009 | Chevrolet | Silverado 2500 HD | 2WD, 4WD |
| 2009 | Chevrolet | Silverado 3500 HD | 2WD, 4WD |
Show More