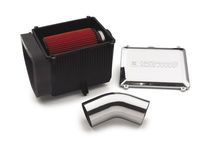 Genuine GM
17801346
Performance Air Intake
For Chevrolet Avalanche 1500 2006; Avalanche 2500 2006; Silverado 1500 2001-2007; Silverado 1500 HD 2001-2003, 2005-2007; Silverado 2500 2001-2004; Silverado 2500 HD 2001-2007; Silverado 3500 2001-2007; Suburban 1500 2006; Suburban 2500 2006; Tahoe 2006; GMC Sierra 1500 2001-2007; Sierra 1500 HD 2001-2003, 2005-2007; Sierra 2500 2001-2004; Sierra 2500 HD 2001-2007; Sierra 3500 2001-2007; Yukon 2006; Yukon XL 1500 2006; Yukon XL 2500 2006
Manufacturer's Notes: This part is discontinued. It is no longer available for purchase.
Product Specifications
Note

For Use on Vehicles Equipped with 4.8L Engine (LR4), 5.3L Engines (LM7, L33 or L59), 6.0L Engine (LQ4 or LQ9)
Warranty
Genuine GM parts are backed by GM's factory warranty which are high-quality vehicle-specific with the right fit the first time.
Part Fitment for 17801346
| Year | Make | Model | Submodel |
| --- | --- | --- | --- |
| 2007 | Chevrolet | Silverado 1500 | Classic 2WD, Classic 4WD, Classic Hybrid 2WD, Classic Hybrid 4WD, Classic SS |
| 2007 | Chevrolet | Silverado 1500 HD | 2WD, 4WD |
| 2007 | Chevrolet | Silverado 2500 HD | Classic 2WD, Classic 4WD |
| 2007 | Chevrolet | Silverado 3500 | 2WD, 4WD |
| 2007 | GMC | Sierra 1500 | Classic 2WD, Classic 4WD, Classic Denali AWD, Classic Hybrid 2WD, Classic Hybrid 4WD |
| 2007 | GMC | Sierra 1500 HD | 2WD, 4WD |
| 2007 | GMC | Sierra 2500 HD | Classic 2WD, Classic 4WD |
| 2007 | GMC | Sierra 3500 | 2WD, 4WD |
| 2006 | Chevrolet | Avalanche 1500 | 2WD, 4WD |
| 2006 | Chevrolet | Avalanche 2500 | |
| 2006 | Chevrolet | Silverado 1500 | 2WD, 4WD, Hybrid 2WD, Hybrid 4WD, SS |
| 2006 | Chevrolet | Silverado 1500 HD | 2WD, 4WD |
| 2006 | Chevrolet | Silverado 2500 HD | 2WD, 4WD |
| 2006 | Chevrolet | Silverado 3500 | 2WD, 4WD |
| 2006 | Chevrolet | Suburban 1500 | 2WD, 4WD |
| 2006 | Chevrolet | Suburban 2500 | 2WD, 4WD |
| 2006 | Chevrolet | Tahoe | 2WD, 4WD |
| 2006 | GMC | Sierra 1500 | 2WD, 4WD, Denali AWD, Hybrid 2WD, Hybrid 4WD |
| 2006 | GMC | Sierra 1500 HD | 2WD, 4WD |
| 2006 | GMC | Sierra 2500 HD | 2WD, 4WD |
| 2006 | GMC | Sierra 3500 | 2WD, 4WD |
| 2006 | GMC | Yukon | 2WD, 4WD, Denali AWD |
| 2006 | GMC | Yukon XL 1500 | 2WD, 4WD, Denali AWD |
| 2006 | GMC | Yukon XL 2500 | 2WD, 4WD |
| 2005 | Chevrolet | Silverado 1500 | 2WD, 4WD, SS 4WD |
| 2005 | Chevrolet | Silverado 1500 HD | 2WD, 4WD |
| 2005 | Chevrolet | Silverado 2500 HD | 2WD, 4WD |
| 2005 | Chevrolet | Silverado 3500 | 2WD, 4WD |
| 2005 | GMC | Sierra 1500 | 2WD, 4WD, Hybrid 2WD, Hybrid 4WD |
| 2005 | GMC | Sierra 1500 HD | 2WD, 4WD |
| 2005 | GMC | Sierra 2500 HD | 2WD, 4WD |
| 2005 | GMC | Sierra 3500 | 2WD, 4WD |
| 2004 | Chevrolet | Silverado 1500 | 2WD, 4WD, SS 4WD |
| 2004 | Chevrolet | Silverado 2500 | 2WD, 4WD |
| 2004 | Chevrolet | Silverado 2500 HD | 2WD, 4WD |
| 2004 | Chevrolet | Silverado 3500 | 2WD, 4WD |
| 2004 | GMC | Sierra 1500 | 2WD, 4WD |
| 2004 | GMC | Sierra 2500 | 2WD, 4WD |
| 2004 | GMC | Sierra 2500 HD | 2WD, 4WD |
| 2004 | GMC | Sierra 3500 | 2WD, 4WD |
| 2003 | Chevrolet | Silverado 1500 | 2WD, 4WD, SS 4WD |
| 2003 | Chevrolet | Silverado 1500 HD | 2WD, 4WD |
| 2003 | Chevrolet | Silverado 2500 | 2WD, 4WD |
| 2003 | Chevrolet | Silverado 2500 HD | 2WD, 4WD |
| 2003 | Chevrolet | Silverado 3500 | 2WD, 4WD |
| 2003 | GMC | Sierra 1500 | 2WD, 4WD |
| 2003 | GMC | Sierra 1500 HD | 2WD, 4WD |
| 2003 | GMC | Sierra 2500 | 2WD, 4WD |
| 2003 | GMC | Sierra 2500 HD | 2WD, 4WD |
| 2003 | GMC | Sierra 3500 | 2WD, 4WD |
Show More