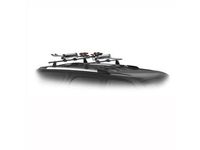 Genuine GM
12497853
Roof-Mounted Ski Carrier,Note:Carries up to 4 Pairs;
For Buick Terraza 2005-2007; Chevrolet Equinox 2005-2007; Express 1500 2002-2007; Express 2500 2002-2007; Express 3500 2002-2007; Trailblazer 2002-2007; Trailblazer EXT 2002-2006; Uplander 2005-2007; GMC Envoy 2002-2007; Envoy XL 2002-2006; Envoy XUV 2004-2005; Savana 1500 2002-2007; Savana 2500 2002-2007; Savana 3500 2002-2007
This Roof-Mounted Ski Carrier can hold multiple skis or snowboards, depending on equipment style. Requires Roof Rack Cross Rails, sold separately.
Manufacturer's Notes: This part is discontinued. It is no longer available for purchase.
Product Specifications
Note

Carries up to 4 Pairs
Warranty
Genuine GM parts are backed by GM's factory warranty which are high-quality vehicle-specific with the right fit the first time.
Part Fitment for 12497853
| Year | Make | Model | Submodel |
| --- | --- | --- | --- |
| 2007 | Buick | Terraza | |
| 2007 | Chevrolet | Equinox | |
| 2007 | Chevrolet | Express 1500 | 2WD, AWD |
| 2007 | Chevrolet | Express 2500 | |
| 2007 | Chevrolet | Express 3500 | |
| 2007 | Chevrolet | Trailblazer | 2WD, 4WD, SS 2WD, SS AWD |
| 2007 | Chevrolet | Uplander | |
| 2007 | GMC | Envoy | 2WD, 4WD, Denali 2WD, Denali 4WD |
| 2007 | GMC | Savana 1500 | 2WD, AWD |
| 2007 | GMC | Savana 2500 | |
| 2007 | GMC | Savana 3500 | |
| 2006 | Buick | Terraza | 2WD, AWD |
| 2006 | Chevrolet | Equinox | |
| 2006 | Chevrolet | Express 1500 | 2WD, AWD |
| 2006 | Chevrolet | Express 2500 | |
| 2006 | Chevrolet | Express 3500 | |
| 2006 | Chevrolet | Trailblazer | 2WD, 4WD, SS 2WD, SS AWD |
| 2006 | Chevrolet | Trailblazer EXT | 2WD, 4WD |
| 2006 | Chevrolet | Uplander | 2WD, AWD |
| 2006 | GMC | Envoy | 2WD, 4WD, Denali 2WD, Denali 4WD |
| 2006 | GMC | Envoy XL | 2WD, 4WD, Denali 2WD, Denali 4WD |
| 2006 | GMC | Savana 1500 | 2WD, AWD |
| 2006 | GMC | Savana 2500 | |
| 2006 | GMC | Savana 3500 | |
| 2005 | Buick | Terraza | 2WD, AWD |
| 2005 | Chevrolet | Equinox | |
| 2005 | Chevrolet | Express 1500 | 2WD, 4WD |
| 2005 | Chevrolet | Express 2500 | 2WD, 4WD |
| 2005 | Chevrolet | Express 3500 | |
| 2005 | Chevrolet | Trailblazer | 2WD, 4WD |
| 2005 | Chevrolet | Trailblazer EXT | 2WD, 4WD |
| 2005 | Chevrolet | Uplander | 2WD, AWD |
| 2005 | GMC | Envoy | 2WD, 4WD |
| 2005 | GMC | Envoy XL | 2WD, 4WD |
| 2005 | GMC | Envoy XUV | 2WD, 4WD |
| 2005 | GMC | Savana 1500 | 2WD, AWD |
| 2005 | GMC | Savana 2500 | 2WD, AWD |
| 2005 | GMC | Savana 3500 | |
| 2004 | Chevrolet | Express 1500 | 2WD, 4WD |
| 2004 | Chevrolet | Express 2500 | 2WD, 4WD |
| 2004 | Chevrolet | Express 3500 | |
| 2004 | Chevrolet | Trailblazer | 2WD, 4WD |
| 2004 | Chevrolet | Trailblazer EXT | 2WD, 4WD |
| 2004 | GMC | Envoy | 2WD, 4WD |
| 2004 | GMC | Envoy XL | 2WD, 4WD |
| 2004 | GMC | Envoy XUV | 2WD, 4WD |
| 2004 | GMC | Savana 1500 | 2WD, AWD |
| 2004 | GMC | Savana 2500 | 2WD, AWD |
| 2004 | GMC | Savana 3500 | |
| 2003 | Chevrolet | Express 1500 | 2WD, 4WD |
Show More