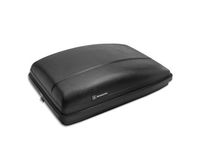 Genuine GM
19243882
Roof-Mounted Hard Cargo Carrier by Thule®
For Buick Rendezvous 2002-2007; Terraza 2005-2007; Cadillac Escalade 2006-2007; Escalade ESV 2006-2007; Escalade EXT 2006-2007; SRX 2004; Chevrolet Avalanche 2007; Avalanche 1500 2006; Avalanche 2500 2006; Express 1500 2003-2007; Express 2500 2003-2007; Express 3500 2003-2007; Suburban 1500 2006-2007; Suburban 2500 2006-2007; Tahoe 2006-2007; Trailblazer 2002-2007; Trailblazer EXT 2002-2006; Uplander 2005-2007; GMC Acadia 2007; Envoy 2002-2007; Envoy XL 2002-2006; Envoy XUV 2004-2005; Savana 1500 2003-2007; Savana 2500 2003-2007; Savana 3500 2003-2007; Yukon 2006-2007; Yukon XL 1500 2006-2007; Yukon XL 2500 2006-2007; Pontiac Montana 2006-2008
This Roof-Mounted Hard Cargo Carrier in Black, co-developed with Thule®, is made of a durable material for long life. It includes premium features such as dual side opening and Quick Grip™ mounting and will carry all your gear in style. Requires crossbars. Associated Accessories, non-GM warranty. Thule® provides a 3-year/36,000-mile manufacturer's warranty.
Manufacturer's Notes: This part is discontinued. It is no longer available for purchase.
Installation Instruction
Warranty
Genuine GM parts are backed by GM's factory warranty which are high-quality vehicle-specific with the right fit the first time.
Part Fitment for 19243882
| Year | Make | Model | Submodel |
| --- | --- | --- | --- |
| 2008 | Pontiac | Montana | |
| 2007 | Buick | Rendezvous | |
| 2007 | Buick | Terraza | |
| 2007 | Cadillac | Escalade | 2WD, AWD |
| 2007 | Cadillac | Escalade ESV | |
| 2007 | Cadillac | Escalade EXT | |
| 2007 | Chevrolet | Avalanche | 2WD, 4WD |
| 2007 | Chevrolet | Express 1500 | 2WD, AWD |
| 2007 | Chevrolet | Express 2500 | |
| 2007 | Chevrolet | Express 3500 | |
| 2007 | Chevrolet | Suburban 1500 | 2WD, 4WD |
| 2007 | Chevrolet | Suburban 2500 | 2WD, 4WD |
| 2007 | Chevrolet | Tahoe | 2WD, 4WD |
| 2007 | Chevrolet | Trailblazer | 2WD, 4WD, SS 2WD, SS AWD |
| 2007 | Chevrolet | Uplander | |
| 2007 | GMC | Acadia | 2WD, AWD |
| 2007 | GMC | Envoy | 2WD, 4WD, Denali 2WD, Denali 4WD |
| 2007 | GMC | Savana 1500 | 2WD, AWD |
| 2007 | GMC | Savana 2500 | |
| 2007 | GMC | Savana 3500 | |
| 2007 | GMC | Yukon | 2WD, 4WD, Denali AWD |
| 2007 | GMC | Yukon XL 1500 | 2WD, 4WD, Denali AWD |
| 2007 | GMC | Yukon XL 2500 | 2WD, 4WD |
| 2007 | Pontiac | Montana | |
| 2006 | Buick | Rendezvous | |
| 2006 | Buick | Terraza | 2WD, AWD |
| 2006 | Cadillac | Escalade | 2WD, AWD |
| 2006 | Cadillac | Escalade ESV | |
| 2006 | Cadillac | Escalade EXT | |
| 2006 | Chevrolet | Avalanche 1500 | 2WD, 4WD |
| 2006 | Chevrolet | Avalanche 2500 | |
| 2006 | Chevrolet | Express 1500 | 2WD, AWD |
| 2006 | Chevrolet | Express 2500 | |
| 2006 | Chevrolet | Express 3500 | |
| 2006 | Chevrolet | Suburban 1500 | 2WD, 4WD |
| 2006 | Chevrolet | Suburban 2500 | 2WD, 4WD |
| 2006 | Chevrolet | Tahoe | 2WD, 4WD |
| 2006 | Chevrolet | Trailblazer | 2WD, 4WD, SS 2WD, SS AWD |
| 2006 | Chevrolet | Trailblazer EXT | 2WD, 4WD |
| 2006 | Chevrolet | Uplander | 2WD, AWD |
| 2006 | GMC | Envoy | 2WD, 4WD, Denali 2WD, Denali 4WD |
| 2006 | GMC | Envoy XL | 2WD, 4WD, Denali 2WD, Denali 4WD |
| 2006 | GMC | Savana 1500 | 2WD, AWD |
| 2006 | GMC | Savana 2500 | |
| 2006 | GMC | Savana 3500 | |
| 2006 | GMC | Yukon | 2WD, 4WD, Denali AWD |
| 2006 | GMC | Yukon XL 1500 | 2WD, 4WD, Denali AWD |
| 2006 | GMC | Yukon XL 2500 | 2WD, 4WD |
| 2006 | Pontiac | Montana | SV6 2WD, SV6 AWD |
| 2005 | Buick | Rendezvous | |
Show More