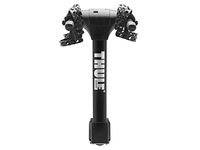 Genuine GM
19331867
Hitch-Mounted 4-Bike Vertex™ Bicycle Carrier in Black by Thule
For Buick Enclave 2008-2020; Envision 2016-2020; Regal 2018-2020; Cadillac CTS 2010-2014; Escalade 2007-2020; Escalade ESV 2007-2018; Escalade EXT 2007-2013; SRX 2010-2016; XT4 2019-2020; XT5 2017-2020; XT6 2020; Chevrolet Avalanche 2007-2013; Blazer 2019-2020; Colorado 2004-2012, 2015-2020; Equinox 2010-2020; Express 1500 2003-2014; Express 2500 2003-2017; Express 3500 2003-2007; HHR 2007-2011; Silverado 1500 2007-2019; Silverado 2500 2019-2020; Silverado 2500 HD 2007-2018; Silverado 3500 2019-2020; Silverado 3500 HD 2007-2018; Suburban 2015-2020; Suburban 1500 2007-2014; Suburban 2500 2007-2013; Suburban 3500 HD 2016-2018; Tahoe 2007-2019; Traverse 2009-2020; GMC Acadia 2007-2020; Canyon 2004-2012, 2015-2020; Savana 1500 2003-2014; Savana 2500 2003-2017; Savana 3500 2003-2007; Sierra 1500 2007-2019; Sierra 2500 2019-2020; Sierra 2500 HD 2007-2018; Sierra 3500 2019-2020; Sierra 3500 HD 2007-2018; Terrain 2010-2020; Yukon 2007-2020; Yukon XL 2015-2020; Yukon XL 1500 2007-2014; Yukon XL 2500 2007-2013
Durable material for secure attachment
Includes lock for safe transport
Transport your up to four bicycles with this GMC Accessories Bicycle Carrier. It easily installs on your vehicle's hitch receiver freeing up interior vehicle space for additional cargo. Carrier tilts away from vehicle for access to rear cargo area.
Replaced By: 19419509
Product Specifications
Lockable

Yes

Color

Black

Weight Capacity

140 lb

Hitch Draw Bar Class

I

Attachment Type

Receiver Plug In

Packaging Quantity

1

Packaging Height

13.12

Packaging Length

49.12

Packaging Width

18.12

Packaging Weight

43
Warranty
Genuine GM parts are backed by GM's factory warranty which are high-quality vehicle-specific with the right fit the first time.
Part Fitment for 19331867
| Year | Make | Model | Submodel |
| --- | --- | --- | --- |
| 2020 | Buick | Enclave | |
| 2020 | Buick | Envision | |
| 2020 | Buick | Regal | |
| 2020 | Cadillac | Escalade | |
| 2020 | Cadillac | XT4 | |
| 2020 | Cadillac | XT5 | |
| 2020 | Cadillac | XT6 | |
| 2020 | Chevrolet | Blazer | |
| 2020 | Chevrolet | Colorado | |
| 2020 | Chevrolet | Equinox | |
| 2020 | Chevrolet | Silverado 2500 | |
| 2020 | Chevrolet | Silverado 3500 | |
| 2020 | Chevrolet | Suburban | |
| 2020 | Chevrolet | Traverse | |
| 2020 | GMC | Acadia | |
| 2020 | GMC | Canyon | |
| 2020 | GMC | Sierra 2500 | |
| 2020 | GMC | Sierra 3500 | |
| 2020 | GMC | Terrain | |
| 2020 | GMC | Yukon | |
| 2020 | GMC | Yukon XL | |
| 2019 | Buick | Enclave | |
| 2019 | Buick | Envision | |
| 2019 | Buick | Regal | |
| 2019 | Cadillac | Escalade | |
| 2019 | Cadillac | XT4 | |
| 2019 | Cadillac | XT5 | |
| 2019 | Chevrolet | Blazer | |
| 2019 | Chevrolet | Colorado | |
| 2019 | Chevrolet | Equinox | |
| 2019 | Chevrolet | Silverado 1500 | |
| 2019 | Chevrolet | Silverado 2500 | |
| 2019 | Chevrolet | Silverado 3500 | |
| 2019 | Chevrolet | Suburban | |
| 2019 | Chevrolet | Tahoe | |
| 2019 | Chevrolet | Traverse | |
| 2019 | GMC | Acadia | |
| 2019 | GMC | Canyon | |
| 2019 | GMC | Sierra 1500 | |
| 2019 | GMC | Sierra 2500 | |
| 2019 | GMC | Sierra 3500 | |
| 2019 | GMC | Terrain | |
| 2019 | GMC | Yukon | |
| 2019 | GMC | Yukon XL | |
| 2018 | Buick | Enclave | 2WD, AWD |
| 2018 | Buick | Envision | 2WD, AWD |
| 2018 | Buick | Regal | |
| 2018 | Cadillac | Escalade | 2WD, 4WD |
| 2018 | Cadillac | Escalade ESV | 2WD, 4WD |
| 2018 | Cadillac | XT5 | 2WD, AWD |
Show More