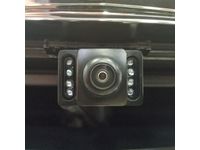 Genuine GM
19366657
Intelllihaul Single Front Camera System by EchoMaster
For Chevrolet Silverado 1500 2014-2019; Silverado 2500 2019; Silverado 2500 HD 2015-2018; Silverado 3500 2019; Silverado 3500 HD 2015-2018; Silverado 4500 2019; Silverado 5500 2019; Silverado 6500 2019; GMC Sierra 1500 2014-2019; Sierra 2500 2019; Sierra 2500 HD 2015-2018; Sierra 3500 2019; Sierra 3500 HD 2015-2018
Reduces the front visibility dead zone to just inches
Improves visibility to allow for tight parking or maneuvering
Allows for visibility during off-road or incline maneuvers to see over crest
Integrates with the in-dash screen
Individual or multiple selectable views
Dust- and liquid-resistant camera housings
Expand your field of vision with this Chevrolet Accessories Front Camera System. It provides additional driver-activated views projected on your vehicle's infotainment system's radio screen. It features a manual touch-screen menu, offering multiple vantage points around the vehicle.
Manufacturer's Notes: This part is discontinued. It is no longer available for purchase.
Product Specifications
Voltage

12 DC

Mounting Bracket Included

Yes

Weather Resistant

Yes

Storage Case Included

No

Built In Microphone

No

Body Color

Black

Packaging Quantity

1

Packaging Height

6.75

Packaging Length

10.38

Packaging Width

8.38

Packaging Weight

0
Warranty
Genuine GM parts are backed by GM's factory warranty which are high-quality vehicle-specific with the right fit the first time.
Part Fitment for 19366657
| Year | Make | Model | Submodel |
| --- | --- | --- | --- |
| 2019 | Chevrolet | Silverado 1500 | |
| 2019 | Chevrolet | Silverado 2500 | |
| 2019 | Chevrolet | Silverado 3500 | |
| 2019 | Chevrolet | Silverado 4500 | |
| 2019 | Chevrolet | Silverado 5500 | |
| 2019 | Chevrolet | Silverado 6500 | |
| 2019 | GMC | Sierra 1500 | |
| 2019 | GMC | Sierra 2500 | |
| 2019 | GMC | Sierra 3500 | |
| 2018 | Chevrolet | Silverado 1500 | 2WD, 4WD, Hybrid 2WD, Hybrid 4WD |
| 2018 | Chevrolet | Silverado 2500 HD | 2WD, 4WD |
| 2018 | Chevrolet | Silverado 3500 HD | 2WD, 4WD |
| 2018 | GMC | Sierra 1500 | 2WD, 4WD, Denali 2WD, Denali 4WD, Hybrid 2WD, Hybrid 4WD |
| 2018 | GMC | Sierra 2500 HD | 2WD, 4WD, Denali 2WD, Denali 4WD |
| 2018 | GMC | Sierra 3500 HD | 2WD, 4WD, Denali 2WD, Denali 4WD |
| 2017 | Chevrolet | Silverado 1500 | 2WD, 4WD, Hybrid 2WD, Hybrid 4WD |
| 2017 | Chevrolet | Silverado 2500 HD | 2WD, 4WD |
| 2017 | Chevrolet | Silverado 3500 HD | 2WD, 4WD |
| 2017 | GMC | Sierra 1500 | 2WD, 4WD, Denali 2WD, Denali 4WD, Hybrid 2WD, Hybrid 4WD |
| 2017 | GMC | Sierra 2500 HD | 2WD, 4WD, Denali 2WD, Denali 4WD |
| 2017 | GMC | Sierra 3500 HD | 2WD, 4WD, Denali 2WD, Denali 4WD |
| 2016 | Chevrolet | Silverado 1500 | 2WD, 4WD, Hybrid 2WD, Hybrid 4WD |
| 2016 | Chevrolet | Silverado 2500 HD | 2WD, 4WD |
| 2016 | Chevrolet | Silverado 3500 HD | 2WD, 4WD |
| 2016 | GMC | Sierra 1500 | 2WD, 4WD, Denali 2WD, Denali 4WD, Hybrid 2WD, Hybrid 4WD |
| 2016 | GMC | Sierra 2500 HD | 2WD, 4WD, Denali 2WD, Denali 4WD |
| 2016 | GMC | Sierra 3500 HD | 2WD, 4WD, Denali 2WD, Denali 4WD |
| 2015 | Chevrolet | Silverado 1500 | 2WD, 4WD |
| 2015 | Chevrolet | Silverado 2500 HD | 2WD, 4WD |
| 2015 | Chevrolet | Silverado 3500 HD | 2WD, 4WD |
| 2015 | GMC | Sierra 1500 | 2WD, 4WD, Denali 2WD, Denali 4WD |
| 2015 | GMC | Sierra 2500 HD | 2WD, 4WD, Denali 2WD, Denali 4WD |
| 2015 | GMC | Sierra 3500 HD | 2WD, 4WD, Denali 2WD, Denali 4WD |
| 2014 | Chevrolet | Silverado 1500 | 2WD, 4WD |
| 2014 | GMC | Sierra 1500 | 2WD, 4WD, Denali 2WD, Denali 4WD |
Show More