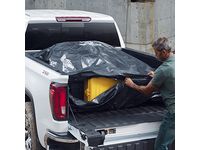 Genuine GM
19369246
Truck Bed Bag - 6 foot 5 inches in Black by Load Lugger™
For Chevrolet Silverado 1500 2014-2020; Silverado 2500 2019-2020; Silverado 2500 HD 2015-2018; Silverado 3500 2019-2020; Silverado 3500 HD 2015-2018; GMC Sierra 1500 2014-2020; Sierra 2500 2019-2020; Sierra 2500 HD 2015-2018; Sierra 3500 2019-2020; Sierra 3500 HD 2015-2018
All weather resistant
Made from 18-oz. PVC-coated vinyl
Leak-resistant RF welded seams and zippers
4-in. storm flap covers zipper for added protection
UV- and mildew-resistant
High capacity storage
High tear-and puncture-resistant
Designed for fast installation and removal
Easy to clean
Designed and engineered to keep tools, luggage, gear and supplies dry and clean, this GMC Accessories Truck Bed Bag helps to protect your belongings from the elements. It easily attaches to your truck's anchor points, eliminating the need for straps, cords or ropes.
Product Specifications
Color

Black

Weather Resistant

Yes

Length

78 in

Material

Vinyl

Packaging Quantity

1

Packaging Height

11.5

Packaging Length

23.5

Packaging Width

17.62

Packaging Weight

20.95
Warranty
Genuine GM parts are backed by GM's factory warranty which are high-quality vehicle-specific with the right fit the first time.
Part Fitment for 19369246
| Year | Make | Model | Submodel |
| --- | --- | --- | --- |
| 2020 | Chevrolet | Silverado 1500 | |
| 2020 | Chevrolet | Silverado 2500 | |
| 2020 | Chevrolet | Silverado 3500 | |
| 2020 | GMC | Sierra 1500 | |
| 2020 | GMC | Sierra 2500 | |
| 2020 | GMC | Sierra 3500 | |
| 2019 | Chevrolet | Silverado 1500 | |
| 2019 | Chevrolet | Silverado 2500 | |
| 2019 | Chevrolet | Silverado 3500 | |
| 2019 | GMC | Sierra 1500 | |
| 2019 | GMC | Sierra 2500 | |
| 2019 | GMC | Sierra 3500 | |
| 2018 | Chevrolet | Silverado 1500 | 2WD, 4WD, Hybrid 2WD, Hybrid 4WD |
| 2018 | Chevrolet | Silverado 2500 HD | 2WD, 4WD |
| 2018 | Chevrolet | Silverado 3500 HD | 2WD, 4WD |
| 2018 | GMC | Sierra 1500 | 2WD, 4WD, Denali 2WD, Denali 4WD, Hybrid 2WD, Hybrid 4WD |
| 2018 | GMC | Sierra 2500 HD | 2WD, 4WD, Denali 2WD, Denali 4WD |
| 2018 | GMC | Sierra 3500 HD | 2WD, 4WD, Denali 2WD, Denali 4WD |
| 2017 | Chevrolet | Silverado 1500 | 2WD, 4WD, Hybrid 2WD, Hybrid 4WD |
| 2017 | Chevrolet | Silverado 2500 HD | 2WD, 4WD |
| 2017 | Chevrolet | Silverado 3500 HD | 2WD, 4WD |
| 2017 | GMC | Sierra 1500 | 2WD, 4WD, Denali 2WD, Denali 4WD, Hybrid 2WD, Hybrid 4WD |
| 2017 | GMC | Sierra 2500 HD | 2WD, 4WD, Denali 2WD, Denali 4WD |
| 2017 | GMC | Sierra 3500 HD | 2WD, 4WD, Denali 2WD, Denali 4WD |
| 2016 | Chevrolet | Silverado 1500 | 2WD, 4WD, Hybrid 2WD, Hybrid 4WD |
| 2016 | Chevrolet | Silverado 2500 HD | 2WD, 4WD |
| 2016 | Chevrolet | Silverado 3500 HD | 2WD, 4WD |
| 2016 | GMC | Sierra 1500 | 2WD, 4WD, Denali 2WD, Denali 4WD, Hybrid 2WD, Hybrid 4WD |
| 2016 | GMC | Sierra 2500 HD | 2WD, 4WD, Denali 2WD, Denali 4WD |
| 2016 | GMC | Sierra 3500 HD | 2WD, 4WD, Denali 2WD, Denali 4WD |
| 2015 | Chevrolet | Silverado 1500 | 2WD, 4WD |
| 2015 | Chevrolet | Silverado 2500 HD | 2WD, 4WD |
| 2015 | Chevrolet | Silverado 3500 HD | 2WD, 4WD |
| 2015 | GMC | Sierra 1500 | 2WD, 4WD, Denali 2WD, Denali 4WD |
| 2015 | GMC | Sierra 2500 HD | 2WD, 4WD, Denali 2WD, Denali 4WD |
| 2015 | GMC | Sierra 3500 HD | 2WD, 4WD, Denali 2WD, Denali 4WD |
| 2014 | Chevrolet | Silverado 1500 | 2WD, 4WD |
| 2014 | GMC | Sierra 1500 | 2WD, 4WD, Denali 2WD, Denali 4WD |
Show More